ONE WORLD RELIGION APOSTASY: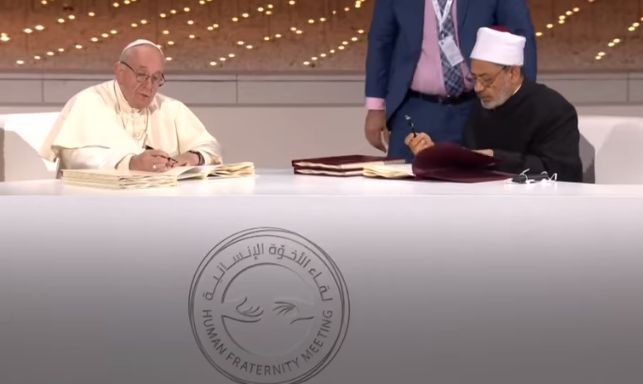 "POPE FRANCIS", ISLAMIC IMAM SIGN
DECLARATION CALLING FOR WORLD PEACE,
"DIALOGUE AMONG BELIEVERS"
BY HEATHER CLARK
Jorge Bergoglio, also known as "Pope Francis," and Islamic Sheikh Ahmed al-Tayeb, the grand imam of Al Azhar, met together this week and signed a declaration calling for tolerance and peace among the nations of the world, as well as dialogue between the world's religions and cultures, which includes cooperation in tackling society's ills. The move has been questioned by some as being another step toward one world religion.
According to Vatican News, the "Document on Human Fraternity for World Peace and Living Together" was signed on Monday in Abu Dhabi, and calls for "all persons who have faith in God and faith in human fraternity to unite and work together."
It also declares "in the name of God," and on behalf of those who identify as Muslim and Catholic, "the adoption of a culture of dialogue as the path; mutual cooperation as the code of conduct; reciprocal understanding as the method and standard."
"We, who believe in God and in the final meeting with Him and His judgment, on the basis of our religious and moral responsibility, and through this document, call upon ourselves, upon the leaders of the world as well as the architects of international policy and world economy, to work strenuously to spread the culture of tolerance and of living together in peace," the document states.
In speaking on the freedom of religion, it asserts that "the diversity of religions … are willed by God," and that men should not be "forced to adhere to a certain religion or culture."
"The pluralism and the diversity of religions, color, sex, race and language are willed by God in His wisdom, through which He created human beings," the document reads. "This divine wisdom is the source from which the right to freedom of belief and the freedom to be different derives. Therefore, the fact that people are forced to adhere to a certain religion or culture must be rejected, as too the imposition of a cultural way of life that others do not accept."
It additionally condemns violence in the name of religion, and urges the nations of the world to work together toward tolerance and peace. The declaration further touches on mutual beliefs about subjects such as protecting life, caring for the poor and elderly, and supporting the rights of women and children.
"[E]veryone must safeguard this gift of life from its beginning up to its natural end. We therefore condemn all those practices that are a threat to life such as genocide, acts of terrorism, forced displacement, human trafficking, abortion and euthanasia," the document states. "Dialogue among believers means coming together in the vast space of spiritual, human and shared social values and, from here, transmitting the highest moral virtues that religions aim for."
It expresses a desire for the signed statement to serve as "a witness to the greatness of faith in God that unites divided hearts and elevates the human soul" and "a sign of the closeness … between all who believe that God has created us to understand one another, cooperate with one another and live as brothers and sisters who love one another."
Bergoglio and the Sunni leader embraced and kissed during the signing ceremony, which was attended by hundreds of leaders of various faiths.
"Could these religions which control people with indoctrination, intimidation, and fear be a precursor to the rule of Anti-christ?" he asked.
Gendron believes that the Vatican is working toward the unification of all the religions, telling Christian News Network in 2016 that
Bergoglio "continues to build bridges to Islam [and] his ultimate goal is to rebuild the religious tower of Babel."
As previously reported, The Catechism of the Catholic Church, paragraph 841, reads, "The plan of salvation also includes those who acknowledge the Creator, in the first place amongst whom are the Muslims. These profess to hold the faith of Abraham, and together with us they adore the one, merciful God, mankind's judge on the last day."
"These two religions represent a huge mission field with nearly three billion precious souls. They need to know the true Jesus and submit to His Word as their supreme authority," Gendron stated on Thursday. "Only then will they repent of their works-righteousness salvation and believe the glorious Gospel of grace. As ambassadors for Christ, let us sow the seed of His Word."