LOCAL MAN ALLEGEDLY ACCOSTED, THROWN TO GROUND, PUNCHED & BLOODIED
BY ABUSIVE POLICE IN DELAWARE NEAR BIDEN'S HOME:
VIDEO & PHOTOS TESTIFY TO RESULTS: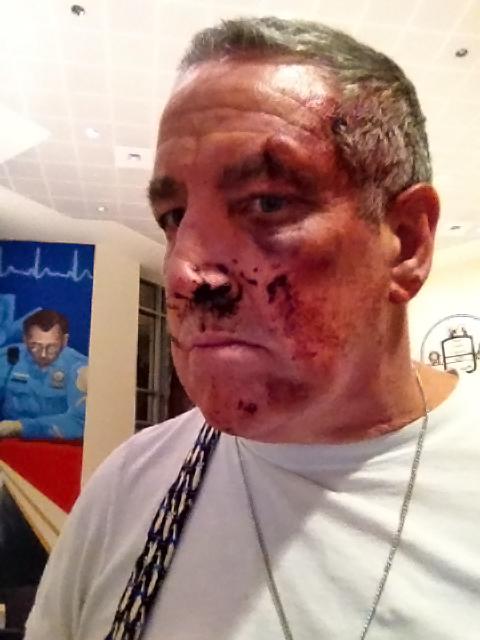 EXCERPT: "
In an interview with The News Journal, Peters said he was beaten by police, and left with a swollen nose, rib injuries, multiple face abrasions and a black eye. Peters provided pictures documenting his injuries.
"They beat the daylights out of me," said Peters, who insists he did nothing wrong. He also denies being connected in any way to the shooting incident.
The officer grabbed Peters by the back of his head and forced him to the ground. Both officers on the scene then struggled with Peters, attempting to gain control of his hands. As Peters was being taken to the ground, one of the officers struck him in the shoulder, neck and head area with his knee, according to the police affidavit.
"And that point, without saying a word, he cold-cocked me," Peters said of one of the officers. The freelance writer said he went down to the ground and an officer put a "death chokehold on me. I thought I was going to die right there."
Right before he passed out, Peters said the officer released him, then took a knee to his back, shoving the left side of his face into the ground. Peters added he repeatedly said "I can't breathe, I can't breathe," and thought of Eric Garner who died in Staten Island, New York, after police placed him in a chokehold.
"Same thing that happened to Eric Garner, happened to me," he said. "It was deja vu all over again."
Peters said he comes from a family of law enforcement so this was surprising."
_______________________________________________________
EXCERPT:
"A Delaware man said that local police violently accosted him before he was arrested, as law enforcement official investigated reports of multiple gunshots near the home of Vice President Joe Biden in Greenville, Delaware.
There has been an ongoing investigation into the shooting incident near Biden's home, but the man, Rock Peters, was arrested roughly 30 minutes after the gunshots were reported. Peters said he was left with a swollen nose, rib injuries, multiple face abrasions and a black eye after New Castle County police beat him.
The incident occurred on Saturday night when Peters had been driving in a car near the entrance to Joe Biden's estate, as officers were closing traffic after reports of the gunfire incident. An officer advised Peters to turn around, but Peters told him it was the only way he knew."
_____________________________________________________________
DELAWARE'S MILITARIZED POLICE BUILD UP:
DELAWARE'S HEAVY EXPENDITURES FOR
CHEVROLET MILITARIZED UNMARKED & MARKED VEHICLES
FUNDED BY THE FEDERAL GOVERNMENT;
(THEY ALL HAVE THE SAME HIGH GLOSS BLACK WHEEL RIMS WITH FLASHING LIGHTS INSIDE)
DELAWARE NATIONAL GUARD FACILITY, NEW CASTLE COUNTY,
NOW RINGED WITH CONCRETE BARRIERS, CHAIN LINK FENCING TOPPED WITH BARBED WIRE
THE "DANGER IN AMERICA'S NEIGHBORHOODS" CAUSED BY
LIBERAL DEMOCRATIC SOCIALIST POLICIES
BIDEN RATIONALIZES WHY GOVERNMENT MUST BE YOUR LORD, MASTER, PROVIDER & PROTECTOR?
WOULD SHOTS FIRED NEAR HIS SECRET SERVICE PROTECTED UPSCALE ESTATE HOME
IN THE POSH SUBURBS OF GREENVILLE, WILMINGTON, DELAWARE
HELP THE CAUSE FOR BUILDING A MASSIVE POLICE STATE
AND UNIVERSAL GUN CONTROL/CONFISCATION?
Published on Jan 19, 2015
US Vice President Biden Asks 'Can You Trust The World' in Martin Luther King Speech

(Reuters) Speaking at an MLK, Jr. memorial event, VP Joe Biden comments of the dangers in America today, saying a parent may worry about their child possibly getting hit ''with a stray bullet from a drive-by shooting by some gang-banger.''
U.S. Vice President Joe Biden honored late civil rights leader Martin Luther King Jr. during a Monday (January 19) morning event at the Organization of Minority Women in Delaware. He spoke of the dangers faced today in America, posing the question; "Can you trust the world with the person you love so much?" "When your child walks out that door, you have enough to fear, you have enough to contend with -- the possibility that they may be in an accident, an automobile accident. They may fall victim to an act of crime or hit with a stray bullet from a drive-by shooting by some gang-banger," said Biden. Gun shots rang out from a passing vehicle near Biden's residence in Delaware on Saturday night, but the vice president and his wife were not at home, the U.S. Secret Service said on Sunday. The shots were fired on a public road several hundred yards from the house, outside a security perimeter, at about 8:25 p.m. EST. Secret Service personnel at the residence heard the reports and saw the vehicle speeding away. The home, near Wilmington, is not visible from the road, and it was not clear whether the gunfire was random or aimed in the direction of the residence.
video footage caught on tape cellphone camera surveillance raw dash cam air live on tv

America honors Martin Luther King with a wreath laying and prayer service led by his daughter amid messages of 'vigilance and nonviolence'
President Obama and wife Michelle will help with a project at the Boys & Girls Clubs of Greater Washington while observing the day
Faith, community and political leaders gathered at historic Ebenezer Baptist Church in Atlanta to celebrate King's legacy where his daughter, Rev. Bernice King, urged people to remember his message of nonviolence

Faith, community and political leaders gathered at the historic Ebenezer Baptist Church in Atlanta and other events across the country to celebrate the legacy of the Reverend Martin Luther King Jr.
President Obama honored the birth of civil rights leader by participating in a community service project. The president and wife Michelle were helping out with a project at the Boys & Girls Clubs of Greater Washington.
The organization helps youngsters develop the skills they need to become responsible adults. In a proclamation issued last week Obama said the U.S. has made 'undeniable progress' since King agitated for justice and equality for all.

Vice President Joe Biden said Monday that communities around the country need to work to bridge the separation between police and the residents they serve.

Speaking at a breakfast honoring slain civil rights activist Martin Luther King Jr., Biden said minority communities and police departments need to build relationships of trust.

"Do we see each other?" Biden asked. "Do we see each other for who we are?"

Biden devoted his 27-minute speech to the tension between police and minorities in some communities around the country following the deaths of two unarmed black men in encounters with white officers in Missouri and New York City this summer.
GOVERNMENT/YOUTUBE BLOCKED VIDEO:
but here's a duplicate: