Laywer Urlich Weber, asked by the diocese and choir to determine the incidents of sexual abuse at the Regensburg Domspatzen.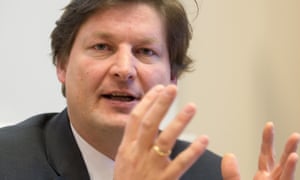 GERMANY: 231 CHILDREN ABUSED AT CATHOLIC BOYS' CHOIR RUN BY
POPE BENEDICT'S BROTHER
AT LEAST 231 children at a famous Catholic boys' choir in Germany were victims of physical abuse, a lawyer commissioned to investigate the scandal said today.
The Domspatzen, a 1,000-year-old choir in Regensburg, Bavaria, was dragged into the massive sexual abuse scandal plaguing the Catholic Church in 2010, when allegations of assaults that took place several decades ago went public.
The choir was run by Pope Benedict's elder brother, Georg Ratzinger, from 1964 to 1994 when most of the claimed abuses took place.
Ratzinger has said that the alleged sexual abuse was "never discussed" in the time that he ran the choir attached to the boarding school.
Lawyer Ulrich Weber, who had been commissioned by the diocese to look into the cases, said at a press conference today that his research, which included 70 interviews with victims, uncovered abuse that took place from 1945 to the early 1990s.
"I have here 231 reports of physical abuse," he said, announcing a figure far higher than had previously been assumed.
These ranged from sexual assault to rape, severe beatings and food deprivation, said Weber.
The reported cases of sexual abuse in Regensburg were mostly concentrated in the period of the mid to end 1970s.
Weber added that "50 victims spoke of ten perpetrators".
The director and composer Franz Wittenbrink, a former pupil of the boarding school, had told Der Spiegel magazine in 2010 that there was a "system of sadistic punishments connected to sexual pleasure".
Several other German institutions have also been engulfed by the ongoing clerical abuse scandal, including an elite Jesuit school in Berlin which had admitted to systematic sexual abuse of pupils by two priests in the 1970s and 1980s.
Most of the priests concerned are not expected to face criminal charges however, because the alleged crimes took place too long ago.
However, there had been calls for a change in the law and for the church to pay compensation to victims.
In February last year, the Regensburg diocese had said there were 72 victims of abuse, and had offered compensation of €2,500 each.
_______________________________________________________
Abuse in the Regensburg Cathedral Boys Choir | European Journal

The Catholic church in Germany is under an increasing amount of pressure as more cases of sexual abuse in its schools and institutions come to light. The Regensburg Cathedral Boys Choir has also been affected.Between 1958 and 1973, several boys who were members of the world-famous choir reported they were tormented and sexually abused. Many of the abuse cases in Regensburg and Catholic schools in Germany date back several decades. Until now the church reviewed reports of abuse internally, but that practice often led to cover ups. Politicians and legal experts are now reexamining the church's practices.