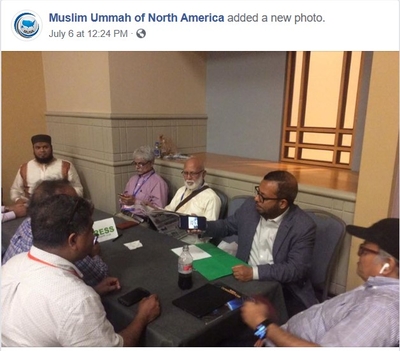 ABOVE: Muhammad Shahidullah, top left, at last month's MUNA conference.
A Global Dawah Channel (A Commitment to Promote Peace and Harmony) iTVusa began its journey with the mission to propagate the inherent love and peace that Islam embodies. We are committed to contribute toward the well being of humanity within our reach so that everyone can realize the benefit of living in a society without prejudice. Our seemingly humble beginning has a very comprehensive and far reaching objective. Through the programming, we aim to cultivate the importance of believing in Almighty Allah and inviting our audience to practice religion through which to achieve salvation both here and hereafter. 150-15 Hillside Avenue, Suite#1001 Jamaica, New York 11432, USA Mail: itvusa.tv@gmail.com Web: www.itvusa.tv Contact : +1 212 729 0610, +1 718 739 0610.
NY IMAM ACTIVE IN INTERFAITH WORK DISSEMINATES EXTREMIST PROPAGANDA ON THE SIDE
BY Abha Shankar
republished below in full unedited for informational, educational and research purposes:
Muhammad Shahidullah

 is a man of seeming contradictions.