BASED ON THE TRADITIONS OF MEN?
WHERE IT IS ALL HEADED:
PURPOSEFUL WATERING DOWN OF BIBLICAL DOCTRINES
FOR ONE WORLD CHURCH UNITY WITH OTHER RELIGIONS
POPE, WOULD BE "VICAR OF CHRIST" DENIES
DIVINITY OF GOD; REPUDIATES SCRIPTURE;
BUT STILL HOLDS TO INFALLIBILITY? MAYBE
GENESIS 1:1
-"In the beginning, God created the heavens and the earth."
ROMANS 1:20
-"For since the creation of the world His invisible attributes are clearly seen, being understood by the things that are made, even His eternal power and Godhead, so that they are without excuse,"
Pope Affirms Big Bang Theory
of the Universe:
SEE:
http://christiannews.net/2014/10/20/catholic-astronomer-calls-young-earth-creation-beliefs-almost-blasphemous/
Pope Contradicts Genesis Account of Creation, Argues 'God and Evolution' Are Compatible:
EXCERPT:
ROME – The Roman Catholic Pontiff Francis addressed an audience at the Pontifical Academy of Sciences on Monday, during which he reaffirmed long-held Catholic beliefs that evolution is not "inconsistent" with Creation.
"When we read about Creation in Genesis, we run the risk of imagining God was a magician, with a magic wand able to do everything. But that is not so," he told those gathered for a discussion on "Evolving Concepts of Nature." "He created human beings and let them develop according to the internal laws that he gave to each one so they would reach their fulfillment."
"And so Creation continued for centuries and centuries, millennia and millennia, until it became which we know today, precisely because God is not a demiurge or a magician, but the Creator who gives being to all things," Francis continued. "The Big Bang, which today we hold to be the origin of the world, does not contradict the intervention of the divine creator but, rather, requires it. … Evolution in nature is not inconsistent with the notion of creation, because evolution requires the creation of beings that evolve."
_______________________________________________________________
_____________________________________________________
PHILOSOPHICAL NATURALISM AT WORK IN THE FALSE PROPHET CALLED POPE FRANCIS:
Pope Attempts to Change God's Moral Laws:
The Synod of Bishops, on the
Pastoral Challenges of the Family,
which ran from October 5-19, has created some heated discussions on the new direction the Roman Catholic Church may be taking.
The primary topics of Synod included softening the church's position on homosexuals and birth control, streamlining the annulment process and improving pastoral care of divorced and remarried Catholics. It is appalling that there is any discussion
on issues where God's authoritative Word has already established His position. No church or pope has the right to ratify a moral position that is inconsistent with God's Divine Law. Marriage was established and clearly defined by God, and no one has the right to pervert what He ordained.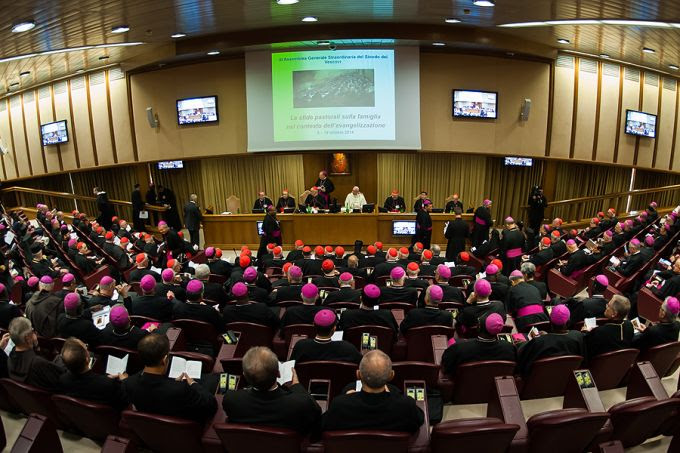 Pope Francis urged the participating bishops to speak their minds clearly and fearlessly. He didn't want to censor the conversation and thereby prevent "the truth" from emerging.
One highly controversial proposal suggested that homosexuals have gifts and qualities to offer to the Christian community, and the church should provide for these people and guarantee them a place of fellowship.
They said that the question of homosexuality requires serious reflection on how to devise realistic approaches to growth and maturation in the Gospel.
Roman Catholic gay rights groups around the world hailed the report as a breakthrough, but Church conservatives called it a betrayal of traditional family values. While the text did not signal any change in the Church's condemnation of homosexual acts or gay marriage, it used less judgmental and more compassionate language than seen in statements prior to the election of Pope Francis.

The Synod also expressed the need to make annulment cases more accessible for divorced and separated people to allow them to partake of the Eucharist. An annulment is a legal procedure for declaring a marriage null and void. Unlike divorce, it is retroactive, meaning that an annulled marriage is invalid from the beginning as if it had never happened.
In his closing address Pope Francis questioned the temptation of "traditionalists" with their "hostile inflexibility" and their failure to allow themselves to be "surprised by God."
________________________________________________________________________________
BREAKING: U.S. in Rome Pushing for a
Published on Oct 30, 2014
US REPRESENTATIVE IN ROME TO PUSH FOR
'GLOBAL COVENANT OF WORLD RELIGIONS'
:
Rome provides a "neutral brokerage" where religious leaders can work together for peace, says Jerry White, the US Deputy Assistant Secretary of State in the Bureau of Conflict and Stabilization Operations.
ALSO IN THIS BROADCAST:
Pope Francis says, "God is not divine being" and Evolution is substantiated by the Bible...
Claims There is Less War and Casualties Than Ever Before:
(Must Be Living in Another World):
Lewis-Berry has been director of overseas operations in the Department of State's Bureau of Conflict and Stabilization Operations since March 2008. He was an adviser to nonviolent civilian Syrian opposition groups in Turkey in 2013 and partnered with U.S. special operations forces to coordinate strategy against militant movements in central Africa from 2011 to 2012.