THE CHURCH MILITANT Ephesians 5:11-"And have no fellowship with the unfruitful works of darkness, but rather expose them". This Christian News Blog maintains a one stop resource of current news and reports of its own related to church, moral, spiritual, and related political issues, plus articles, and postings from other online discernment ministries, and media which share the aims to obey the biblical commands to shed light on and refute error, heresy, apostasy, cults, and spiritual abuse.
Thursday, June 14, 2018
DINESH D'SOUZA SPEECH ABOUT HIS RECENT PARDON BY PRESIDENT TRUMP
BOYCOTT NETFLIX NOW!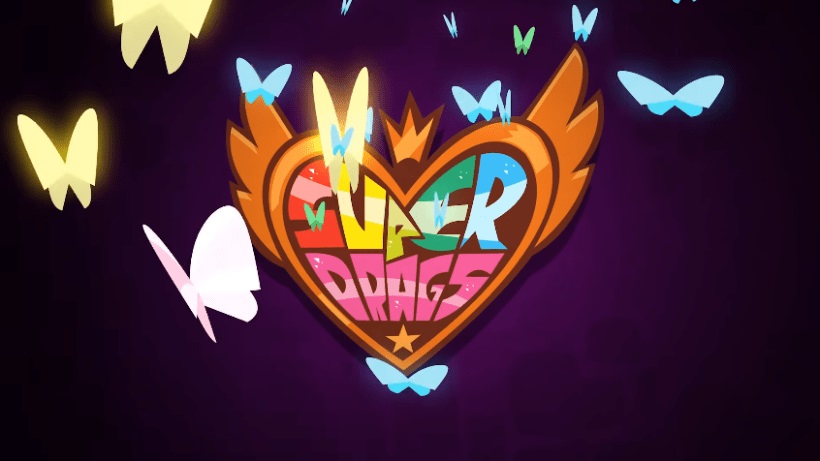 NETFLIX ANNOUNCES ANIMATED
"DRAG QUEEN" SERIES: "THEY'RE QUEER, & THEY'RE GOING TO SAVE THE WORLD"
BY HEATHER CLARK
"Netflix has sunk to a new low." That's one of a number of comments of concern following the popular movie outlet's presentation of a teaser for a new cartoon series called "Super Drags," which centers on the fictional tales of drag queen superheroes.
"They're here, they're queer, and they're going to save the world. Super Drags, a new animated series coming soon," Netflix announced on social media on Thursday.
The accompanying trailer for the series includes in-your-face animated close-ups of the partially bare rear-end and breasts of one of the characters as they suit up for their mission. The video then cuts to the logo for the show, with "Super Drags" written partially in rainbow colors and displayed inside of a heart.
"During the day, they work in a department store and deal with their uptight [expletive] boss. By night, they tighten up their corsets and transform into the baddest SUPER DRAGS in town, ready to combat shade and rescue the world's glitter from the evil villains," a description on Netflix' YouTube channel also reads. "Get ready, because the SUPER DRAGS are going deeper than you think."
The five-part series was reportedly created by Anderson Mahanski, Fernando Mendonça and Paulo Lescaut and produced by the Brazilian Combo Studios. Executive Producer Marcelo Pereira praised the Netflix partnership in a statement to CosmoNerd, jesting, "When Nostradamus said that the world would be saved by super heroine drag queens, no one believed, just us."
"Thanks to Netflix, we can take the Brazilian animation and primarily the LGBTQ representation to the 190 countries that have access to the service," he said. "… And dream of a world where gays can bust the bad guys, not the other way around. Thank you, Netflix, for making us believe."
Homosexual and transgender advocates have praised the series, with the outlet SYFYWire remarking that the trailer teaser "combines everything we love in this world."
"This is truly a perfect gift to kick off Pride Month," it opined.
However, others have expressed disgust over the announcement, with some pondering canceling their Netflix service.
"This garbage @netflix is pushing something normal people don't want," one commenter wrote. "Also, being a cartoon, it will draw kids in, and we have enough problems with society currently."
"Squeezing breasts and [behinds] … apparently can't talk about drag without involving sex. Not really something that should be aimed at kids," another lamented.
"I won't ever allow my children to watch this filth. How dare you promote this garbage and give $50mm to the crony Obamas #cancelnetflix," a third opined.
In his book, "The True Christian," the late Anglican preacher J.C. Ryle, who often preached on holiness and separation from the world, declared, "[T]hey who are taught and called of God may soon be distinguished from the sleeping children of this world. These have no leisure for vain amusements; their eyes are fixed and their thoughts are engaged upon the narrow path they have to tread and the crown they hope to receive; they have counted the cost and come out from the world; and their only wish is that they may finish their course with joy."
_____________________________________________________________
SEE OUR PREVIOUS POSTS ABOUT DRAG SHOWS FOR KIDS, ADULTS, ETC:
RECENT:
http://ratherexposethem.blogspot.com/2018/06/st-paul-minnesota-library-system.html
FULL CATEGORY:
https://ratherexposethem.blogspot.com/search?q=DRAG&max-results=20&by-date=true
_______________________________________________________

Children's Cartoon 'Drag Tots' to Feature
'Baby Drag Queens' Voiced by Cast of
'RuPaul's Drag Race'
EXCERPTS:
A new animated series akin to "The Powerpuff Girls," but featuring cartoon "baby drag queens" voiced by cast members of "RuPaul's Drag Race," is set to appear on the World of Wonder's WOW Presents Plus this month, being at least the second release in 2018 featuring animated cross-dressing men.
"Drag Tots" tells the story of four pint-sized drag queens who attend grammar school, and navigate through adventures with the aid of a talking unicorn head, played by homosexual drag entertainer RuPaul himself.
"Baby drag queens attend grammar school in this new animated series for kids and grown-ups of all ages!" a description of the show outlines.
______________________________________________________________
Drag Tots! A New Animated Series Coming to WOW Presents Plus on June 28th
D
RAG QUEEN CHILDREN TV SHOWS
(Friday Church News Notes, June 22, 2018, www.wayoflife.org, fbns@wayoflife.org, 866-295-4143) -
The following is excerpted from "Drag Queen Children TV Shows Coming to America,"
Christian Post
, Jun. 11, 2018: "
At least two new animated television shows about drag queens, one featuring children characters, are set to debut in America, drawing high concern from conservative commentators.
World of Wonder
released a trailer
in May about 'Drag Tots!,' a show about toddler drag queens coming June 28th, featuring transgender model RuPaul. 'In a world on the brink of chaos, where fear is the rule of the land, the voices of a generation have banded together to give our planet what it needs...BABY DRAG QUEENS!' proclaims a preview on YouTube. On May 31, Netflix announced the animated
'Super Drags,'
with a teaser preview that is yet to be given a release date stating: 'By night, they tighten up their corsets and transform into the baddest SUPER DRAGS in town, ready to combat shade and rescue the world's glitter from the evil villains. Get ready, because the SUPER DRAGS are going deeper than you think.' ... Rod Dreher observes, 'Netflix is turning drag queens into animated superheroes, and RuPaul's streaming service is turning drag queens into child superheroes. You might think--I certainly hope you think--that your child will not be exposed to this filth. The thing is, your child, and all of us, have to live in a world in which this is normal, and in which the popular culture thinks that dressing little boys up like sexually provocative women is not only permissible, but a sign of cultural progress.' Dreher pointed to other such efforts, like the
'Drag Queen Story Hours'
that have been held in libraries across America. They have been adapted by other countries as well, including the United Kingdom, with activists defending the idea of drag queens reading to children."
Tommy Robinson's Life Is In Danger. They Want Him Dead | Stefan Molyneux
According to his right-hand man Caolan Robertson, Tommy Robinson has just been transferred from a relatively safe situation in a prison with a small Muslim population into a prison with a significantly larger Muslim population, "filled with people who don't like him," where he has already been placed into general population. Within the new prison, Tommy's life has already been threatened. It has been reported that inmates were screaming threats at Tommy and banging on their cell doors throughout the night. Apparently "a hit" has also already been put out on Tommy – which mirrors what happened last time he was incarcerated. Despite being assaulted and threatened multiple times while in jail previously, Tommy Robinson's life is being endangered one again. Pulled from the streets and imprisoned within hours, where there is now a significant chance he will be given the death penalty. Your support is essential to Freedomain Radio, which is 100% funded by viewers like you. Please support the show by making a one time donation or signing up for a monthly recurring donation at:
http://www.freedomainradio.com/donate
EMERGENCY: TOMMY ROBINSON TRANSFERRED TO MUSLIM PRISON, FACING CERTAIN DEATH
Muslim inmates already chanting death threats against Robinson
republished below in full unedited for informational, educational and research purposes:



Exclusive: Tommy Robinson is being shipped to a high-security, Muslim-majority prison in which he'll be released to the general population despite inmates already making death threats against him, according to Robinson's spokesman Caolan Robertson.












You can also watch the exclusive interview below with Caolan Robertson along with the rest of Wednesday's broadcast of The Alex Jones Show: