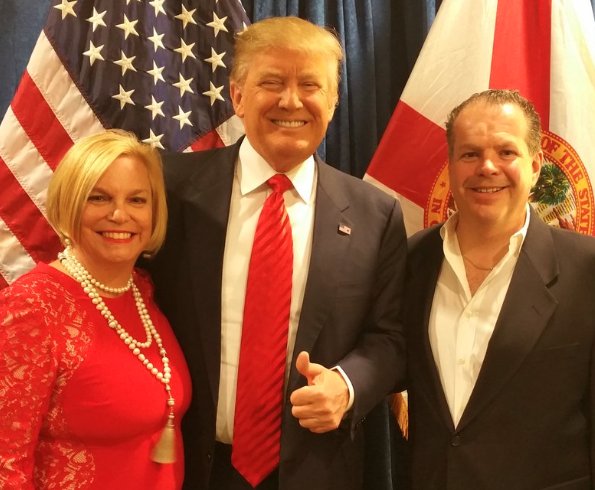 Meet the Founders: JoAnn DeBartolo & Tom Ravana. They were the Chairmen for the Collier County TRUMP for President Campaign. Trump's successful win in 2016, led them to keep the momentum going by creating the Collier for Trump Club. Learn more here:
http://
ow.ly/yVk630jMyNv
.
SEE: https://www.collier4trump.com/
J.P. MORGAN CHASE BANK PURSUES FORECLOSURE & SEIZURE OF HOME OF TRUMP SUPPORTERS YEARS AFTER MORTGAGE SATISFIED BY GOOD SAMARITAN~COUPLE'S CAR RAMMED BY ILLEGAL; HOSPITAL, INSURANCE & LEGAL BILLS
PLEASE CONTRIBUTE TO THEIR GO FUND ME ACCOUNT
Joann Debartolo & Tom Ravana were hit by an illegal alien and due to medical bills they are now at risk of losing their home. They join Roger Stone via Skype to discuss the details.
FIRST COURT SIDED WITH THEM. APPEALS COURT REFUSED TO ADMIT THEIR EVIDENCE; ONLY THE BANK'S.
SEE ALSO:
_______________________________________________________________
PHOTOS:
JoAnn & Tom were the Chairmen for the Collier County Donald J TRUMP for President Campaign. With the successful & unprecedented win in 2016, they decided to keep the momentum going by creating the Collier for Trump Club, Inc.
Through their hard work & commitment, Collier County was the #1 County in the State of Florida as a percentage for get out the vote in the Florida Primary. JoAnn & Tom built a network of loyal Trump volunteers over the 15 months of campaigning. These volunteers are still loyal to the Republican cause and come out to support any Donald Trump events they sponsor.
On Illegal Immigration...
JoAnn is extremely passionate about the status of illegal immigration in our country today. A few years ago, she was involved in a terrible accident, where her car was struck by an illegal immigrant. As she lay in the hospital for almost two months, she began her hard, long road to recovery and learning to walk again. While she still suffers with pain today, she still considers herself blessed. JoAnn hopes that through stronger illegal immigration practices, no one else will have to suffer the way she did, and hopes to end illegal immigration for good.