THE MOST HISTORIC MOMENTS
FROM THE KIM-MOON SUMMIT
Kim Jong Un becomes first North Korean leader to set foot in South Korea
North Korean leader Kim Jong Un and South Korean President Moon Jae-in met at the Military Demarcation Line Friday for the two countries first summit in more than 10 years.
Kim, the first North Korean leader to enter South Korea since the 1950-53 Korean War, approached Moon with all smiles before the two shook hands on their respective sides.
"I was excited to meet at this historic place and it is really moving that you came all the way to the demarcation line to greet me in person," Kim told Moon.
After stepping over to the South, Kim went off script and brought Moon back to the North, clutching the hand of his quasi-counterpart.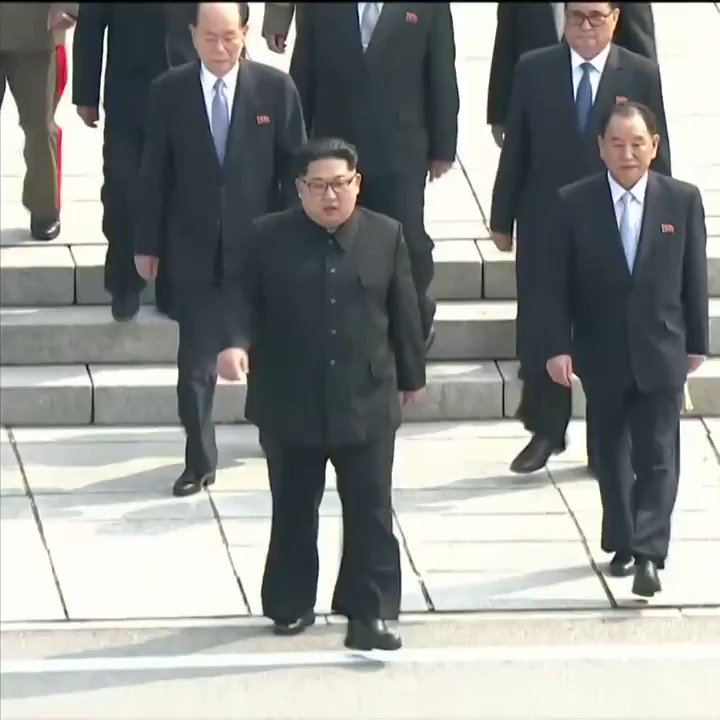 The pair posed for photos as dozens of journalists looked on, frantically capturing the historic moment as it unfolded at Panmunjom.
Credit: Korea Summit Press Pool/Getty Images
The two leaders were then accompanied by a traditionally-dressed honor guard as they began towards the event's opening ceremony.
Credit: Inter-Korean Summit Press Corps/Pool via Bloomberg
Kim was introduced to numerous members of Moon's delegation before Moon was introduced to Kim's.
Moon was saluted by North Korea's top military men, clad in Soviet-era regalia.
Credit: Korea Summit Press Pool/Getty Images
Making their way to the newly-renovated Peace House, Kim entered and signed the guest book, a gesture reserved for all high-level visitors.
A photo of Kim's message reads: "A new history begins now – at the starting point of history and the era of peace."
Upon finally reaching the negotiating table, Kim and Moon exchanged their opening remarks, both advocating for a long-sought peace in the divided region.
Halfway through the summit, the two took a break to plant a tree commemorating the unprecedented occasion.
After hours of deliberation and talks, the two leaders released a
joint declaration
. Among other things, the two countries promised to increase diplomatic relations and work towards the "denuclearization of the Korean Peninsula."
"The two leaders solemnly declared before the 80 million Korean people and the whole world that there will be no more war on the Korean Peninsula and thus a new era of peace has begun," the declaration triumphantly announced.
To celebrate the accomplishment, the leaders of the DPRK and ROK sat down for a banquet, complete with traditional Korean music, celebratory toasts and small talk.
As darkness eventually fell on the Korean Peninsula, Kim stepped inside a limousine surrounded by security personnel and slipped back into the Hermit Kingdom.
Kim is now set to meet with U.S. President Donald Trump in late May or early June.
While analysts are skeptical North Korea will give up its nuclear weapons, the summit could fulfill some short term goals, including an official end to the Korean war and the release of U.S. hostages, as Trump and Kim lay out plans for the future.
In a series of tweets Friday, Trump congratulated the two Korean leaders on their landmark proceeding.
"After a furious year of missile launches and Nuclear testing, a historic meeting between North and South Korea is now taking place," Trump said. "Good things are happening, but only time will tell!"
View some of the Kim-Moon Summit's historic photos below:
Credit: Korea Summit Press Pool/Getty Images
Credit: Korea Summit Press Pool/Getty Images
Credit: Korea Summit Press Pool/Getty Images
Credit: Korea Summit Press Pool/Getty Images
Credit: Inter-Korean Summit / POOL/Anadolu Agency/Getty Images
---
---
_______________________________________________
KIM JONG UN WALKS INTO SOUTH KOREA AND AGREES TO 'COMPLETE DENUCLEARISATION'
'We are going to be one again'
North and South Korea will seek a 'peace regime' to end the Korean War after 68 years as Kim Jong-un agreed to 'complete denuclearisation' during historic talks today.
Kim Jong-un
became the first North Korean leader to step into the South for 65 years as he met with President Moon Jae-in for a peace summit today.
The two sworn enemies exchanged a warm greeting at the 38th parallel in the truce village of Panmunjom before Moon led Kim by the hand to cross into the South for the first time ever.
_______________________________________________
Peace Breaking Out With New Sheriff In Town:
DONALD TRUMP
North and South Korean Leaders Hold Historic Summit
Kim Jong-un crosses DMZ, welcomed by South Korea
In a historic meeting, North Korean leader Kim Jong-un crossed the demilitarized zone and was welcomed by South Korea President Moon Jae-in. It's been over 10 years since the two countries' leaders last met, and Kim's eagerness to negotiate is sparking some optimism of a united Korea.