JEREMIAH HAS ALREADY PASSED
THE "TURNING POINT"
TOWARDS HERESY, APOSTASY,
CATHOLICISM & NEW AGE MYSTICISM
A PARTNERSHIP BORN OF SATAN
SEE:
VIDEO OF INTERVIEW (EXCELLENT QUALITY):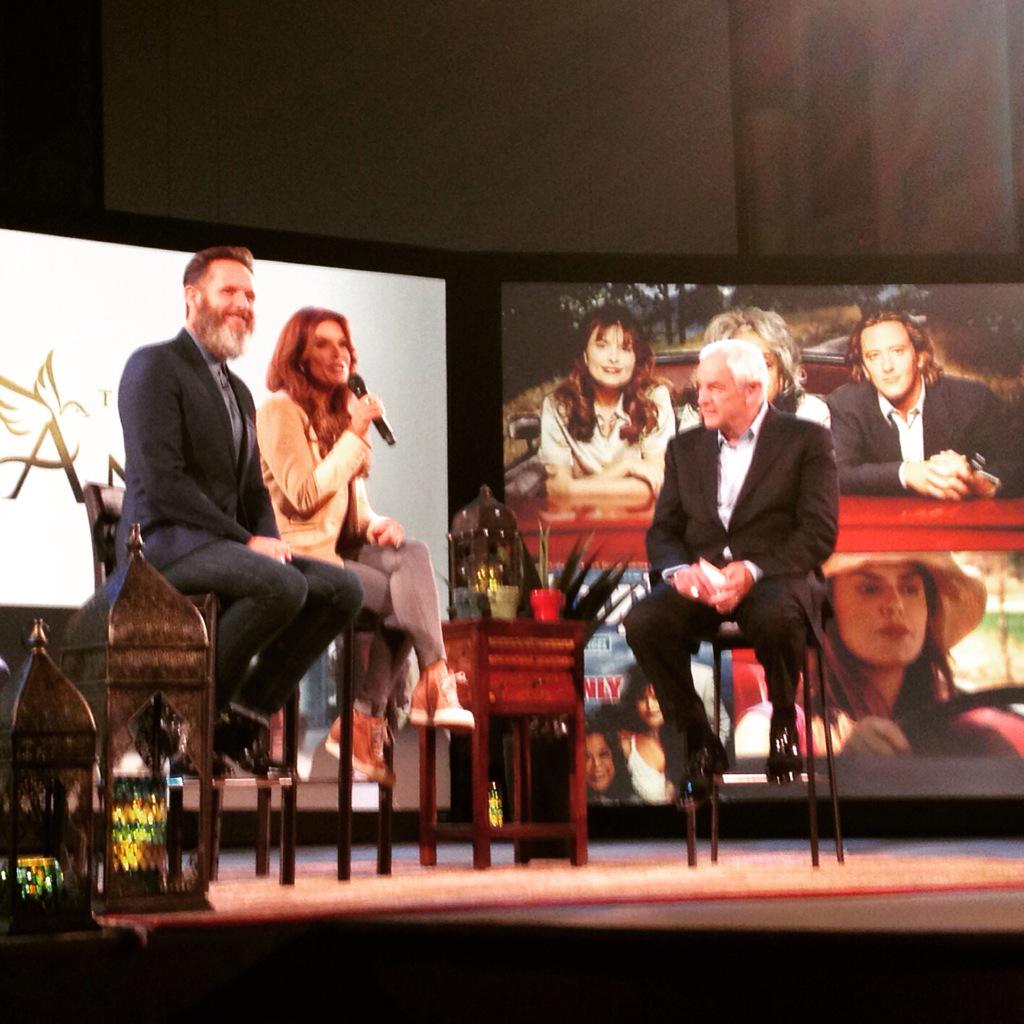 DAVID JEREMIAH
COMPLETELY & UTTERLY DECEIVED
You're Invited: Thursday, March 12, at 3:00 p.m.
Dear ______,You're invited to be part of a live studio audience as I interview the producers of The Bible and A.D., Mark Burnett and Roma Downey, on stage in the main sanctuary at Shadow Mountain Community Church this Thursday, March 12, at 3:00 p.m.
On Easter Sunday, Turning Point Television will begin airing our new series, A.D. The Revolution That Changed the World. This teaching series is the "Scripture behind the story" of the dramatic NBC television event, A.D. The Bible Continues.
We are privileged that producers Mark Burnett and Roma Downey asked us to partner with them in telling the story of the early church through the characters found in the Book of Acts.
I pray you'll join me for this live taping with Mark and Roma as we discuss the role of Christians in Hollywood and how God is using biblically based programming on primetime television to reach the world for Christ.
Doors will open at 2:30 p.m. and the taping is scheduled to begin at 3:00 p.m. This interview will be aired on Turning Point Television and used online and in social media to promote the message of this groundbreaking series.
See you this Thursday!
David Jeremiah
Shadow Mountain Community Church
2100 Greenfield Dr.
El Cajon, CA 92019
______________________________________________________________
LAUGHING ALL THE WAY TO THE BANK WITH MONEY
FROM GULLIBLE CHRISTIANS
SEE: LIGHTHOUSE TRAILS RESEARCH:
SEE ALL OUR PREVIOUS POSTS ABOUT DOWNEY & BURNETT
S
OUTHERN BAPTISTS AND CATHOLICS PRAISING NEW AGER'S WORK
(Friday Church News Notes, April 10, 2015,
www.wayoflife.org
,
fbns@wayoflife.org
, 866-295-4143) - Southern Baptists, Catholics, Pentecostals, and emergents are praising the latest work of the New Age entertainer Roma Downey. Those who praise Downey's newest production,
A.D. The Bible Continues
, include Ronnie Floyd, President of the Southern Baptist Convention (SBC), Ed Stetzer of the SBC's LifeWay Research, George Wood, General Superintendent of the Assemblies of God, Catholic Cardinal Donald Wuerl, Joel Osteen, T.D. Jakes, Andy Stanley, Max Lucado, Perry Noble, and Rick Warren. The praise from these men is effusive and lacking any warning about Downey's apostasy. For example, Stetzer says, "In 'A.D.', Mark and Roma have masterfully brought together the text and context, bringing the story alive in a fresh, new way--showing the true promise and peril of the early church situation. 'A.D.' is amazing television, and a gift to the church." Roma Downey is the Roman Catholic co-creator with husband Mark Burnett of the History Channel's popular
The Bible
miniseries and
The Son of God
movie. She calls Pope Francis "a new pope of hope" ("Roma Downey,"
Christian Post
, April 4, 2013). She says, "I have prayed to Mary and loved her my whole life" ("The Bible: An Epic Mini-Series," Catholiclane.com, Feb. 28, 2013). She promotes the use of the rosary as a meditation practice by which she prays to Mary as the Queen of Heaven and the Mother of God. The Catholic Mary is sinless and can hear and answer the prayers of every petitioner, thus having the divine attributes of mediatorship, omnipresence, and omnipotence. But Roma Downey's heresies exceed those pertaining to Rome's papacy, sacramental gospel, and communion with a demon masquerading as Mary. Roma graduated from the University of Santa Monica with a graduate degree in Spiritual Psychology, which is described at the school's web site as "the study and practice of the art and science of human evolution in consciousness." The benefits of Spiritual Psychology include "experiencing enhanced spiritual awareness through knowing yourself as a Divine Being" and "learning to relate to yourself with greater compassion and awareness of yourself as a Divine Being having a human experience." Why would any Bible-believing Christian recommend movies produced by a New Ager without the loudest and most fervent qualification, at the very least? "Be ye not unequally yoked together with unbelievers: for what fellowship hath righteousness with unrighteousness? and what communion hath light with darkness?" (2 Cor. 6:14).