REP. ILHAN OMAR: DRAGGING THE FOREIGN AFFAIRS COMMITTEE OFF THE RAILS
BY FAYE HIGBEE
House Speaker Nancy Pelosi had to know that putting an anti-Semite who actually hates America on the Foreign Affairs Committee was a bad idea. Rep Ilhan Oman "attacked" Venezuelan envoy Elliott Abrams, demanding to know whether if "a genocide will take place and you will look the other way because American interests were being upheld."
Abrams refused to answer the question, calling the line of questioning "ridiculous."
"That is a ridiculous question," Abrams responded when Omar asked him if he thought the massacre was a "fabulous achievement." "I am sorry, but I am not going to respond to that kind of an attack."

Omar then asked if he would "support crimes against humanity or genocide if you believe they were serving U.S. interests as you did in Guatemala, El Salvador and Nicaragua." Abrams in the past had defended Guatemalan dictator Efraín Ríos Montt, who oversaw a campaign in which thousands of Guatemalans were either massacred or disappeared and who was later convicted of genocide. Omar, though, has also faced criticism for challenging the U.S. policy in Venezuela, and her questions appeared to suggest active U.S. opposition to Maduro, who has overseen a complete economic collapse in Venezuela, could spiral into "genocide."

Abrams responded: "I don't believe this line of questioning is meant to be real questions and so I will not reply."

Omar then said she wanted to know whether "a genocide will take place and you will look the other way because American interests were being upheld." Abrams said the American policy in Venezuela is to support the Venezuelan people's effort to restore democracy.
The US has chosen, along with numerous other nations, to back Juan Guaido as the legitimate president of Venezuela, as we have previously reported. Nicholas Maduro is a Socialist dictator that has ravaged the nation, leaving its people in horrific conditions. Omar wants to talk about massacres, but doesn't want to talk about Venezuelans who are suffering tremendously in a government that is killing them from malnutrition, disease, and poverty.
That's the genocide. It has nothing to do with the United States- it has to do with a Venezuelan dictator.
___________________________________________________________
Former George W. Bush senior adviser Brad Blakeman and exiled Venezuelan Mayor David Smolansky , discuss Rep. Ilhan Omar's (D-Minn.) political attack against special envoy to Venezuela Elliot Abrams during a House hearing.
Rep. Ilhan Omar (D-MN) has a heated exchange with Elliot Abrams, the U.S. special envoy to Venezuela, highlighting his role in the Iran-Contra affair. She says, "I fail to understand why members of this committee or the American people should find any testimony you give today to be truthful." The exchange came during a House Foreign Affairs Committee hearing.
REP. OMAR'S ANTI-SEMITISM IS JUST
CAIR'S ANTI-SEMITISM
Pull on the string of Rep. Omar's anti-Semitism and you go right back to the Muslim Brotherhood.
Daniel Greenfield, a Shillman Journalism Fellow at the Freedom Center, is an investigative journalist and writer focusing on the radical Left and Islamic terrorism.
Rep. Ilhan Omar defended the anti-Semitic Black Israelites hate group in January. In February, she was originally scheduled to speak at an Islamic Relief USA dinner alongside IRUSA's Yousef Abdallah who had endorsed violence against Jews and described former Governor Chris Christie "down on his knees before the Jewish lords and masters… only money makes stuff like this happen."
Abdallah's comments were very similar to the anti-Semitic Twitter slurs that got Omar in trouble.
That's not a coincidence. Omar's worldview, including her anti-Semitism, was shaped by a familiar network of Islamist organizations which control life for most Muslims in the United States.
In March, Rep. Omar is headed to California to speak at CAIR's Los Angeles dinner. There she will appear alongside CAIR's Florida boss Hassan Shibly who has defended Hamas and vocally praised Hezbollah. "Israel & it's supporters are enemies of God and humanity!" he had tweeted.
Shibly has vocally defended Rep. Omar over her comments about Jews.
Rep. Omar's comments about Jews are a commonplace CAIR talking point. Nihad Awad, the co-founder and executive director of CAIR, had made an even more explicit version of the same argument. "Who of Clinton's advisors … is opposing the latest agreement with Iraq? Look at their names. Look at … their ethnic or religious or racial background."
"The Jews plan to distort Islam's image and have succeeded in their plans," he later claimed.
Before that, Awad had been the PR director for the Islamic Association of Palestine, CAIR's previous incarnation, which had published "America's Greatest Enemy: The Jew! And an Unholy Alliance!" The hate pamphlet claimed that, "the Jews through their Zionist machinery have power over all the agencies and organs of the United States government."
It's no coincidence that Rep. Omar is speaking at the events of two Islamist organizations which have a history of promoting the claim that Jews control America using money. It's where she got those views.
The coverage of Rep. Omar's anti-Semitic tweet has treated its bigotry as if it were her own. It's not.
Rep. Omar isn't just dropping in on CAIR. She had also served on CAIR-Minnesota's advisory board. And her trip to California is a matter of repaying her biggest group of supporters for their backing.
Omar had benefited from three CAIR fundraising events in California. While she had accused pro-Israel politicians of taking money from pro-Israel Jews, she's been taking money from pro-terror Muslims.
Rep. Omar's anti-Semitism was absorbed, along with other even uglier views, from the Islamist lobby of hate groups like CAIR. And Omar's career shows that there is no Islamist agenda too extreme for her.
In 2017, she was one of only two representatives to vote against a bill limiting terrorist life insurance payouts.
In 2016, Omar sent a letter in defense of 9 ISIS recruits in Minnesota. "A long-term prison sentence for one who chose violence to combat direct marginalization is a statement that our justice system misunderstands the guilty," she wrote of the ISIS recruits. "People seek violent solutions when the process established for enacting change is inaccessible to them."
Rep. Omar doesn't just hate Jews and oppose Israel. These are only components of her Islamist worldview which sparks with sympathy for Islamist terrorists in America, as much as in Israel.
Congress doesn't have an Omar problem. It has a CAIR problem. And that's a much harder problem to solve than soliciting a non-apology from Rep. Omar for letting her anti-Semitic slip show.
Over time, CAIR leaders learned how to say the same ugly things in a more deniable tone. Rep. Omar is learning the same tricks. But coded bigotry isn't an improvement. It is in some ways worse.
Rep. Omar has tended to be condemned and to apologize for word choices. But her word choices are not inopportune. And they are not the issue. The Islamist politician wasn't blindly stumbling into offensive territory because of her word choices. Her word choices reflect the stark apocalyptic terms in which she sees the conflict with Israel.
Omar's worldview is CAIR's world. And CAIR's worldview is that of the Muslim Brotherhood. The Brotherhood's Sayyid Qutb had claimed that the Jews use money to control the world. Hamas, an arm of the Brotherhood, had claimed in its charter that, "with their money, they took control of the world media, news agencies, the press, publishing houses, broadcasting stations, and others... With their money they formed secret societies, such as Freemasons, Rotary Clubs, the Lions and others in different parts of the world for the purpose of sabotaging societies and achieving Zionist interests."
Pull on the string of Rep. Omar's anti-Semitism and you go right back to the Muslim Brotherhood. Omar is just a symptom of the problem. And the problem is the Brotherhood's presence in American politics.
Omar's hateful views are unremarkable among Muslim Brotherhood activists. They're so commonplace that they're little more than background noise. Conspiracy theories about global influence are used to explain how the Jews were able to win back their independence and maintain an independent country.
When Omar tweeted, "Israel has hypnotized the world, may Allah awaken the people and help them see the evil doings of Israel", she was echoing the same worldview from another angle. It's the tip of an Islamist conspiracy iceberg that goes far beyond a current clash with Hamas and instead all but contends that the Jews had started WWI and all the other wars in order to achieve their geopolitical goals.
In the Koranic and Qutubian worldview, the Jew is a primal enemy of Islam. The Jews are behind all the conflicts and there will be no peace until a final apocalypse in which the Muslims wipe out the Jews.
And then Allah will awaken the people.
Opposition to Israel and support for Hamas helps Muslims affirm the role of the Jews as the fundamental enemies of Islam, who prevent the supremacy of Islam from taking hold.
Islam's victory can only be achieved by destroying the Jews.
These are the ingredients baked long and hard to make Rep. Omar's worldview. And this is only the beginning. As more Muslims are elected to higher office, more of them will be Islamists.
CAIR has a solid grip on Muslim communities in America. As more Muslim are elected to national offices, CAIR's agenda will sink even deeper into the national and local legislatures. That is what we should be talking about. The only lesson Rep. Omar has learned is to choose her words more carefully and that will make it easier for Democrats to ignore her anti-Semitism and harder for Jewish activists to complain about it. But Rep. Omar' convictions, grounded in her religion, are not about to change or go anywhere.
There's no point in talking about Rep. Omar, unless we're also going to talk about CAIR.
_____________________________________________________________
After claiming AIPAC buys politicians, Rep. Ilhan Omar to speak for Hamas-linked CAIR, which has given her thousands
BY ROBERT SPENCER
Consistency? Honesty? Integrity? Those are for the common folk, not for the elites.
"Money in politics? Ilhan Omar will fly to LA for fundraiser with … terror-tied CAIR," by Jordan Schachtel, Conservative Review, February 13, 2019:
_______________________________________________________________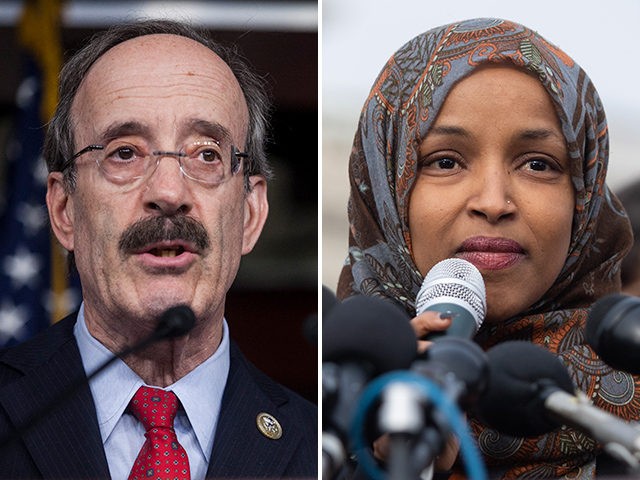 House Foreign Affairs Chair Eliot Engel:
Ilhan Omar's Antisemitic Comments 'Unacceptable'
BY JOSHUA CAPLAN
Rep. Eliot Engel (D-NY), chairman of the House Committee on Foreign Affairs, condemned Rep. Ilhan Omar (D-MN) for tweeting anti-Semitic tropes Sunday evening, calling the freshman lawmaker's comments about the role of so-called "Jewish money" in U.S. politics "shocking."
"Anti-Semitism in any form is unacceptable, and it's shocking to hear a Member of Congress invoke the anti-Semitic trope of 'Jewish money,'" Engel wrote in a statement Monday. "I fully expect that when we disagree on the Foreign Affairs Committee, we can debate policy on the merits and never question members' motives or resort to personal attacks. Criticism of American policy tow
ard any country is fair game, but this must be done on policy grounds."
Omar is under fire after quote-tweeting criticism from House Minority Leader Kevin McCarthy (R-CA) in which she suggested lawmakers are given donations in exchange for supporting Israel.
"It's all about the Benjamins baby," the Minnesota Democrat wrote in response to The Intercept's Glenn Greenwald's criticism of McCarthy vowing to take action against anti-Israel members of Congress.
Omar followed up her tweet with an age-old antisemitic trope that the American Israel Public Affairs Committee (AIPAC) pays lawmakers to support Israel. AIPAC does not make financial contributions or endorsements to candidates.
Last month, House Speaker Nancy Pelosi (D-CA) selected Omar to serve on the House Foreign Affairs Committee, overlooking her support of the Boycott, Divestment, and Sanctions (BDS) movement against Israel and previous tweets in which she accused the Jewish state of "hypnotizing the world" and "evil doings." Pelosi has yet to weigh in on the controversy.
Omar's remarks drew strong rebuke from another powerful Democrat, House Judiciary Chairman Jerry Nadler (D-NY), who criticized her remarks as "deeply disappointing and disturbing."
"It is deeply disappointing and disturbing to hear Representative Ilhan Omar's (MN) choice of words in her exchange with a journalist yesterday, wherein she appears to traffic in old anti-Semitic tropes about Jews and money," he said. "Her words are deeply hurtful and offensive, particular as they build on previous comments she made about Jews 'hypnotizing' the world in support of Israel — another old trope born of hate-filled texts like the Protocols of the Elders of Zion."
_______________________________________________________
RABBIS PROTEST OMAR APPOINTMENT TO FOREIGN RELATIONS
BY JOHN HINDERAKER
We wrote here about the fact that Nancy Pelosi has appointed Ilhan Omar to the House Foreign Relations Committee, notwithstanding Omar's vicious hostility toward Israel, one of America's key strategic partners, and her apparent anti-Semitism. Among other things, Omar is a supporter of the "BDS" movement that seeks to delegitimize Israel as an independent nation.
Today the Coalition for Jewish Values, which represents more than 1,000 rabbis on issues of public policy, delivered a letter to Pelosi, asking her to rescind her appointment of Omar to Foreign Relations. The letter is embedded below. Some excerpts:
We write to express our alarm, dismay and outrage at your elevation of Freshman Representative Ilhan Omar to the House Foreign Affairs Committee. This decision runs contrary to the values of tolerance and equality to which the Democratic Party and your office have always been committed.

In 2012, as Israel defended itself against an expressly genocidal army which fired thousands of missiles at civilians, Ilhan Omar declared: "Israel has hypnotized the world, may Allah awaken the people and help them see the evil doings of Israel."
***
According to the United States State Department, "applying double standards by requiring of it a behavior not expected or demanded of any other democratic nation" is anti-Semitic, as is "justifying the killing or harming of Jews" and "making mendacious, dehumanizing, demonizing, or stereotypical allegations about Jews." Rep. Omar has done all three.
***
The Republican Party responded to comments attributed to Representative Steve King by stripping him of all committee assignments – although he disavowed those remarks, insisted they did not represent his views, and voted in favor of House Resolution 41 condemning white nationalism and white supremacy.

The Democratic National Committee similarly, and to its credit, pulled its sponsorship from the Women's March after coleader Tamika Mallory refused to condemn the anti-Semitic statements of Louis Farrakhan.

Now, you have responded to the anti-Semitic statements of Representative Omar by providing her a seat on the Foreign Affairs Committee, from which a House Member with such noxious views of Jewish self-defense can do maximal damage to the special US-Israel relationship and the ongoing fight of the civilized world against terrorism.

… We urge you to immediately rescind this ill-considered appointment.
_____________________________________________________
BERNIE SANDERS ON ILHAN OMAR:
"WE WILL STAND BY OUR MUSLIM BROTHERS AND SISTERS"
But will they stand by him?