EPSTEIN WITH "PROCURER" GHISLAINE MAXWELL: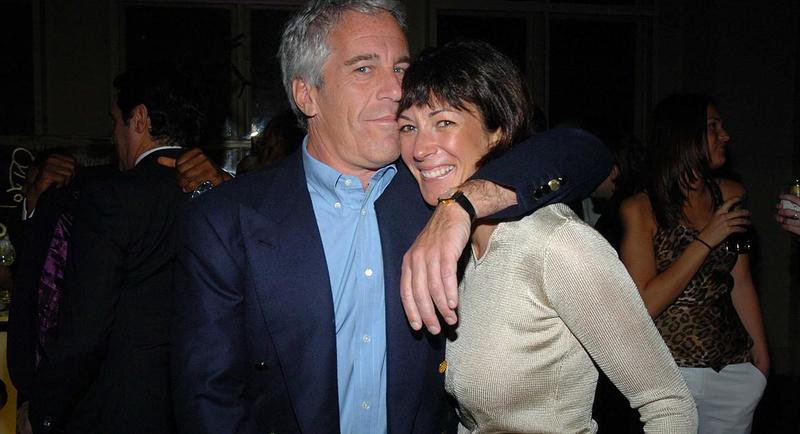 A new Project Veritas video shows ABC's Amy Robach talking about the network's efforts to squash her Jeffrey Epstein coverage, claiming she had the story 'for three years.'
DID NOT MEET ABC'S "EDITORIAL STANDARDS"?
PROJECT VERITAS VIDEO: LEAKED ABC NEWS INSIDER RECORDING EXPOSES #EPSTEINCOVERUP
"WE HAD (BILL) CLINTON; WE HAD EVERYTHING"
BECOME AN UNDERCOVER JOURNALIST:
https://projectveritas.com/journalist...
• "I've Had This Story for Three Years… (ABC) Would Not Put It on The Air" says Good Morning America Breaking News Anchor, and 20/20 Co-Anchor Amy Robach. "It Was Unbelievable… We Had - Clinton, We Had Everything…" • Robach: "We Had Her Whole Allegations About Prince Andrew…I Got a Little Concerned About Why I Couldn't Get On." • Amy Robach Describes How She Interviewed a Woman Who Had the Courage to Come Forward "Years" Ago About Epstein: "She Had Pictures, She Had Everything. She Was in Hiding for Twelve Years. We Convinced Her to Come Out. We Convinced Her to Talk to Us." • Robach Details ABC's Initial Response to Her: "Who's Jeffrey Epstein? No One Knows Who That is. This is a Stupid Story • Robach: "Now it's All Coming Out … I Freaking Had All Of It…" (New York, NY) Newly revealed footage leaked by an ABC insider has exposed how network executives rejected allegations against Jeffrey Epstein years ago, even though there was content regarding the merit of those claims in-hand. Amy Robach, 'Good Morning America' Co-Host and Breaking News Anchor at ABC, explains how a witness came forward years ago with information pertaining to Epstein, but Disney-owned ABC News refused to air the material for years. Robach vents her anger in a "hot mic" moment with an off-camera producer, explaining that ABC quashed the story in it's early stages. "I've had this interview with Virginia Roberts (Now Virginia Guiffre) [alleged Epstein victim]. We would not put it on the air. Um, first of all, I was told "Who's Jeffrey Epstein. No one knows who that is. This is a stupid story." She continues, "The Palace found out that we had her whole allegations about Prince Andrew and threatened us a million different ways." Robach goes on to express she believes that Epstein was killed in prison saying, "So do I think he was killed? 100% Yes, I do…He made his whole living blackmailing people... Yup, there were a lot of men in those planes. A lot of men who visited that Island, a lot of powerful men who came into that apartment." Robach repeats a prophetic statement purportedly made by Attorney Brad Edwards "…[T]here will come a day when we will realize Jeffrey Epstein was the most prolific pedophile this country has ever known," and Disgustedly Robach states "I had it all three years ago." Project Veritas intends to continue its investigation into corruption in the Mainstream Media. We encourage that Brave insiders at these organizations come forward with any information they have, so that the public knows what is really going on within these media companies. Newsletter:
https://www.projectveritas.com/sign-u
... Website:
http://projectveritas.com/
Facebook:
https://www.facebook.com/ProjectVeritas
Twitter:
https://twitter.com/Project_Veritas
Buy James O'Keefe's book:
http://www.americanpravdabook.com
_______________________________________________________________
SEE OUR PREVIOUS POSTS:
FORMER CLINTON, TRUMP FRIEND JEFFREY EPSTEIN SEXUALLY ABUSED, TRAFFICKED "DOZENS OF MINOR GIRLS", PROSECUTORS CHARGE
ACCUSED SEX TRAFFICKER JEFFREY EPSTEIN KILLS HIMSELF OVERNIGHT AT A FEDERAL LOCKUP IN MANHATTAN, OFFICIALS SAY
FOUND HUNG IN JAIL CELL
AS PER NEW YORK TIMES
EPSTEIN'S ISLAND RETREAT RAIDED; DOCUMENTS SHOW PERVERSIONS~BARR PROMISES TO PROSECUTE CO-CONSPIRATORS
AUTOPSY FOUND BROKEN BONES IN EPSTEIN'S NECK INCONSISTENT WITH SUICIDE~EPSTEIN MADAM GHISLAINE MAXWELL FOUND HIDING WITH "CFR" FELLOW SCOTT BORGERSON AT $3 MILLION SEASIDE ESTATE IN MASS.
https://ratherexposethem.blogspot.com/2019/08/autopsy-found-broken-bones-in-epsteins.html
______________________________________________________________
How Clinton Cronies Kill Stories
ABC blocks Epstein tale, NBC derails Weinstein revelations, and Clinton Foundation hatchet man Sidney Blumenthal tries to block a book on anti-Trump plotters.
"The Epstein story didn't kill itself," Colin Kalmbacher of Law and Crime reported on Tuesday. In 2015, ABC had "an extensively-documented story on Epstein's elite global pedophilia and sex-trafficking organization–including information that appeared to implicate a former U.S. president." As Kalmbacher noted, ABC "decided to bury the story" declaring it "unfit to broadcast."
The story was a project of ABC anchor Amy Robach, who lamented, "And now it's all coming out, and it's like these new revelations, and I freaking had all of it. I'm so pissed right now. Like, every day I get more and more pissed, 'cause I'm just like, oh my God. What we had was unreal. Other women backing it up."
As Fox News reported, Robach was caught on a hot mike saying "It was unbelievable what we had, Clinton, we had everything." That would be former president Bill Clinton, and Robach's lamentations were captured on a video by James O'Keefe of Project Veritas, which Amy Robach authenticated.
Ryan Saavedra's Daily Wire story cited Conchita Sarnoff, who told Shannon Bream of Fox news that Bill Clinton was a guest of Epstein's 27 times. There were underage girls on the plane, Sarnoff revealed, and the president would not agree to an interview. Sarnoff concluded that the former president "is not telling the truth."
Over at National Review, Zachary Evans recalled that Jeffrey Epstein "had previously been indicted for sexually abusing underage girls in Florida in 2008" and was again indicted in July on charges of sex trafficking and abusing underage girls. The new allegations against Epstein were revealed in June by Julie Brown of the Miami Herald, who gathered testimony from "80 alleged victims of Epstein who said they were part of a sex trafficking ring run by the financier."
ABC News told Newsweek "we have never stopped investigating the story" and a two-hour documentary and 6-part podcast that "will air in the new year." Epstein, Newsweek's Tufayel Ahmed noted, "was found dead in his New York prison cell in August, which meant he could not be tried or convicted." To paraphrase Colin Kalmbacher, some believe that Jeffrey Epstein "didn't kill himself."
Those include Amy Robach who said on the O'Keefe video that she is "100 percent" certain Epstein was murdered. He "made his living blackmailing people," Robach said, and "a lot of powerful men were involved." As CNBC reported in August, Epstein's lawyer Reid Weingarten testified that his client's injuries are "far more consistent with assault than suicide." Epstein expired on August 10, and the autopsy revealed broken bones in his neck.
Jeffrey Epstein was as dead as Vincent Foster, another alleged suicide, but there could be no doubt that ABC killed the story of Epstein's sexual predations. As this unfolds, Ronan Farrow's new book Catch and Kill reveals how NBC killed the story on Harvey Weinstein.
As John Gage noted in the Washington Examiner last month, former NBC producer Rick McHugh is on record that some stories were killed at the request of Weinstein himself. NBC bosses Noah Oppenheim and Andrew Lack, McHugh said, "behaved more like members of Weinstein's PR team than the journalists they claim to be. Thanks to them, a leading national news organization, in broad daylight and with zero remorse, abdicated its single greatest responsibility — to relentlessly pursue and tell the truth."
According to Ashley Collman at Insider, in his bid to kill Farrow's story, "Harvey Weinstein reached out to his good friend Hillary Clinton." In similar style, anybody could be forgiven for believing that Bill Clinton is the primary reason ABC covered up the Epstein story. As reporters attempt to pry off the lid, another Clinton crony is getting into the act.
Sidney Blumenthal worked with the Clinton Foundation and served as an adviser to former First Lady Hillary Clinton during her stint as Secretary of State. As Daniel Chaitin of the Washington Examiner reported on Monday, "Clinton family ally" Blumental "reportedly tried to stop the publication of a book about a 'deep state' plot to undermine President Trump."
When it comes to the Clintons, ABC and NBC can't be trusted to tell the truth. And CNN has a problem with the reality that President Trump defeated Hillary Clinton in 2016. Another James O'Keefe video showed CNN boss Zeff Zucker telling staffers Trump is a "monster" and "Let's just stay very focused on impeachment."