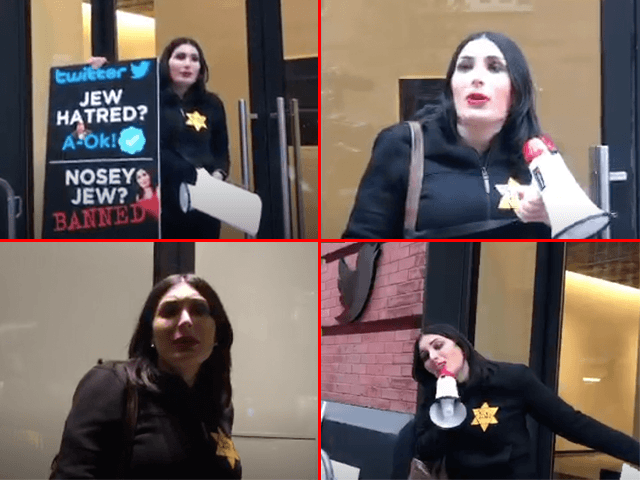 LAURA LOOMER CHAINS HERSELF TO TWITTER HEADQUARTERS IN NEW YORK TO PROTEST CENSORSHIP OF CONSERVATIVES
Investigative reporter takes the information war into the third dimension
Laura Loomer reports from Twitter headquarters in NYC to protest her recent ban from the platform.
Loomer has handcuffed herself to the front door of Twitter HQ to protest internet censorship of conservatives.
republished below in full unedited for informational, educational and research purposes:
Update: Laura Loomer had been taken into custody. Police had cut the handcuffs and, according to a citizen-journalist, she was taken to a police precinct. She discusses what happened below:
"Far-right activist Laura Loomer handcuffed herself to Twitter's New York City headquarters for about two hours on Thursday afternoon to protest the company's banning her from the social media platform, then asked police to remove her. Loomer attached herself to the building's front door, blocking the entrance to the building in Manhattan's Chelsea neighborhood in a protest that was livestreamed on Periscope, which began at about 3:45 p.m. ET. The video stream showed Loomer wearing on her chest a yellow Star of David such as many European Jews were forced to wear during the Holocaust, and a sweatshirt that read on the back, "#STOPTHEBIAS."
Twitter closed the conservative firebrand's account a week ago after she posted a tweet criticizing Minnesota Rep.-elect Ilhan Omar, a Democrat, and her Muslim faith, calling Omar "anti Jewish" and pro-Sharia law. At one point Thursday, Loomer yelled through the doors of Twitter's building, telling its employees that they worked for an "evil" company. She also yelled to a group of people who stood across the street, "They don't want you guys to know the truth." "I am not going to stand by as people like Jack Dorsey and Mark Zuckerberg [try to] silence the voices of millions of conservatives," Loomer said. She asserted that Twitter CEO Jack Dorsey banned her as a "Jewish conservative journalist," a phrase she yelled repeatedly while chained to the building. Twitter released a statement during her protest, saying, "We have notified the relevant authorities who are responding. The account holder was suspended for violating our policies. We apply the Twitter Rules impartially and not based on ideology..."
Posted by
Infowars LIVE
-11:45
Live Exclusive: Laura Loomer Explains The Twitter Protests That Got Her Cameraman's Finger Cut Off
#

Twitter

employee tries to knock down someone who was standing on a ladder by aggressively pushing on the door. Then he put his hands on

#

LauraLoomer

by ripping away her sign from her hands she was using in protest. So... this is ok?

#

Qanon