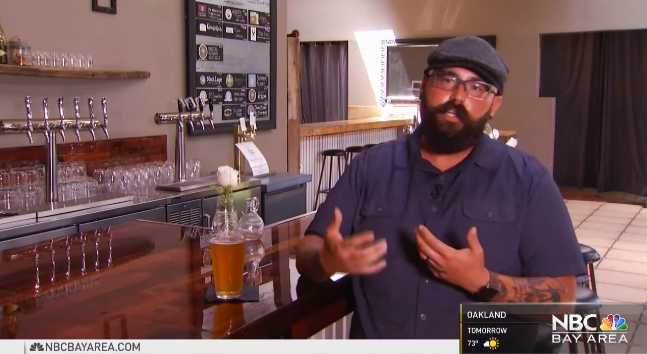 PRO GAY CHURCH SELLS BUILDING, PLANS TO OPEN BREWERY IN NEW FACILITY, DONATE PROFITS TO PLANNED PARENTHOOD
BY HEATHER CLARK
SANTA CRUZ, Calif. —
The pro-homosexual Greater Purpose Community Church in California says that it has sold its former building and plans to open a public brewery in the now-closed Logos Bookstore in Santa Cruz. The brewery, which will also be used as meeting space for Sunday services, will donate part of the proceeds to Planned Parenthood, among other organizations.
"We decided to sell the building, because for us a church is a community and a movement," leader Chris VanHall told NBC Bay Area. "It's not brick and mortar."
While looking for a new place to gather, VanHall's rental agent mentioned the former Logos Bookstore and signed a lease agreement with former Logos Owner John Livingston to use the space as both a meeting place for Greater Purpose and a brewery and eatery.
"It's more about community than anything," Livingston told reporters. "I really like their approach."
In the meantime, Greater Purpose is meeting in The Food Lounge, a restaurant and bar in the city. VanHall asked the owner of the lounge to keep the bar open, so members could have a beer while listening to his sermons.
"We have a glass of beer, glass of wine, and it's a comfortable atmosphere where people can not only listen to a progressive take on theology, but they can also engage in conversation," he said.
"They can have one or two. As a matter of fact, if they have two, my sermon's always better," VanHall jested.
He said that the former Logos Bookstore will be named the Greater Purpose Brewing Company. VanHall plans to revamp the location into space for manufacturing beer, mead and hard cider. The brewery will be open to the public, but on Sunday mornings, VanHall will use the facility for Sunday services before the brewery opens.
"We don't want to dupe anyone. We don't want to have this bar and, 'Come on in and have a beer,' and boom, you get a church service," he explained.
VanHall said that he also plans to split profits from the brewery and donate part of the proceeds to local non-profit organizations, such as Planned Parenthood, which has an office upstairs.
"I thought to myself, 'Wouldn't it be great if a church could figure out a way to make a product where they split profits with local community service organizations?' And we were like, 'Hey, we love beer. We love making beer. Why not do a brewery?'" he outlined.
"A woman's right to choose is something most churches are silent on or opposed to, but that's not where we stand in the faith community," Van Hall told Good Times. "We hope to be an absolute conundrum for people walking by. A church that serves beer and gives the profits away to places like Planned Parenthood is really exciting to me."
World Religion News notes that Greater Purpose already hosts meetings open to all religions called "Faith on Tap," during which participants have a drink while discussing how to raise money or volunteer to support local causes.
The late Anglican preacher J.C. Ryle once exhorted, "Controversy is an odious thing, but there are days when it is a positive duty. Peace is an excellent thing, but, like gold, it may be bought too dear. Unity is a mighty blessing, but it is worthless if it is purchased at the cost of truth. Once more I say, Open your eyes and be on your guard."
_______________________________________________________________
C
ALIFORNIA CHURCH TO MEET IN A BREWERY
(Friday Church News Notes, August 24, 2018, www.wayoflife.org, fbns@wayoflife.org, 866-295-4143) -
The Greater Purpose Community Church of Santa Cruz, California, is building a beer brewery that will also serve as its meeting place. Pastor Chris VanHall says, "I thought to myself, wouldn't it be great if a church could figure out a way to make a product where they split the profits with local community service organizations, we were like 'hey, we love beer, we love making beer, why not do a brewery?'" He said that drinking a couple of beers "improves the sermon." The church's web site says, "[We] will embrace you regardless of your faith, personal life choices, race, sex, sexual orientation, gender identity, political preference, social status, or economic standing." The profit from the church's brewery will go to abortion provider Planned Parenthood. This is "The Shack" Christianity which is void of conviction of sin, repentance, and life-changing regeneration. Such things are labeled "bigotry and hate-filled theology" by The Greater Purpose Community Church.