IS POLITICAL UNITY POSSIBLE,
2 Corinthians 6:14
"Be ye not unequally yoked together with unbelievers: for what fellowship hath righteousness with unrighteousness? and what communion hath light with darkness?"
DELAWARE HYPOCRITE COONS' PRAYERS ARE INEFFECTUAL,
IF & UNTIL HE REPENTS OF HIS SINS~
SUPPORTS GAY AGENDA, ABORTION & ILLEGAL ALIENS
"A fearless and outspoken progressive Democrat, U.S. Senator Chris Coons also has the distinction of being trained not only at Yale Law School, but also its Divinity School."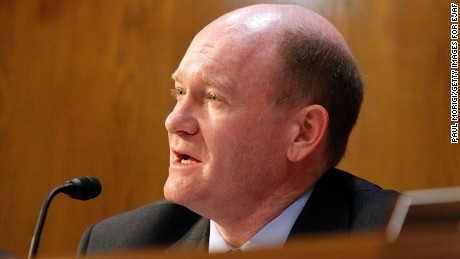 NOT A LAUGHING MATTER
PRESIDENT TRUMP DELIVERS REMARKS
AT THE 2019 NATIONAL PRAYER BREAKFAST
Senators Bless President Trump At National Day of Prayer Breakfast
COONS' PRAYER PROBABLY WON'T REACH GOD,
EVEN IF IT WAS ENDED WITH "IN JESUS' NAME"~
NOTHING IN AMERICA WILL BE HEALED WITHOUT REPENTANCE
Jeremiah 29:8-15-
"For thus saith the LORD of hosts, the God of Israel; Let not your prophets and your diviners, that be in the midst of you, deceive you, neither hearken to your dreams which ye cause to be dreamed.
For they prophesy falsely unto you in my name: I have not sent them, saith the LORD.
For thus saith the LORD, That after seventy years be accomplished at Babylon I will visit you, and perform my good word toward you, in causing you to return to this place.
For I know the thoughts that I think toward you, saith the LORD, thoughts of peace, and not of evil, to give you an expected end.
Then shall ye call upon me, and ye shall go and pray unto me, and I will hearken unto you.
And ye shall seek me, and find me, when ye shall search for me with all your heart.
And I will be found of you, saith the LORD: and I will turn away your captivity, and I will gather you from all the nations, and from all the places whither I have driven you, saith the LORD; and I will bring you again into the place whence I caused you to be carried away captive.
Because ye have said, The LORD hath raised us up prophets in Babylon;
________________________________________________________
Looking forward to the National Prayer Breakfast with Sen Lankford & Sen. Coons of Delaware
Sen. Coons National Prayer Breakfast statement
SEE THESE PREVIOUS POSTS ABOUT
PRO LGBTQ, PRO-ABORTION, PRO-ILLEGAL ALIEN COONS:
CHRIS COONS, DELAWARE SENATOR PROPOSES SURTAX FOR WAR AGAINST ISIS~BERNIE SANDERS PARTNERS WITH COONS
TELL DELAWARE'S SENATOR COONS: ABORTION IS BAD FOR AMERICA, JUST LIKE "THE IRAN DEAL IS BAD FOR AMERICA"~SO WHY HAS HE TAKEN BRIBE BLOOD MONEY FROM PLANNED PARENTHOOD?
EXCERPTS:
I respect "stare decisis", and a woman's right to choose. (Oct 2010)
Federal funding for embryonic stem cell research. (Oct 2010)
Pro-choice, but no federal subsidies. (Sep 2010)
Support embryonic stem cell research. (Sep 2010)
Make abortion safe, legal and rare. (Sep 2010)
Supports giving legal protection to unborn children. (Sep 2010)
Ban anti-abortion limitations on abortion services. (Nov 2013)
NARAL PRO-CHOICE AMERICA CONGRATULATES CHRIS COONS ON HIS VICTORY OVER ANTI-CHOICE CANDIDATE
AND:
http://www.pro-choicedelaware.org/congress.html
ALSO SEE OUR PREVIOUS POSTS:
http://ratherexposethem.blogspot.com/2015/07/democrats-move-to-strike-husband-wife.html (Coons wants "husband" & "wife" removed from federal law)
http://ratherexposethem.blogspot.com/2015/05/perverted-love-fest-normalizes-sodomy.html (Coons with gay Elton John & "husband" at Capitol Aids Reception)
Coons (D-DE) – $11,610
COONS SUPPORTS JOE BIDEN FOR PRESIDENT
TRUMP APPEARS TO BE NEGATIVE TOWARD MCCAIN-COONS
IMMIGRATION PLAN
EXCERPT:
Senator Christopher Coons (D-Del.) introduced an immigration bill (S.2367), of which Senator John McCain (R-Ariz.) was an original cosponsor, on February 5 that would grant relief from deportation and a path to citizenship for the nearly 800,000 young illegal aliens known as "Dreamers," whose work permits are set to expire March 5. These youthful illegal aliens had been granted protection from deportation and the right to work legally in the United States under former President Obama's Deferred Action for Childhood Arrivals (DACA) program.