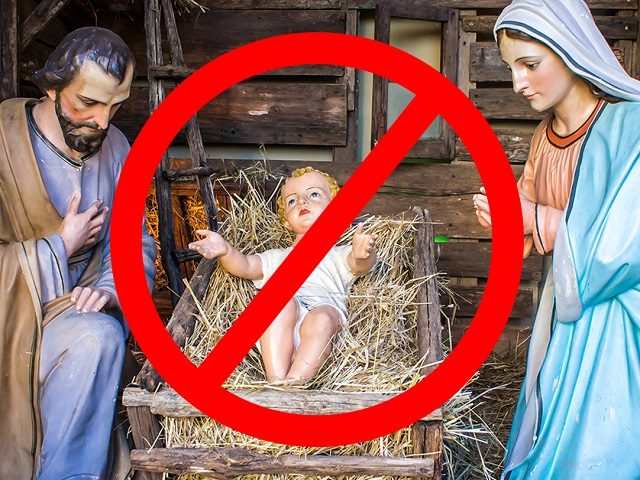 MIDLOTHIAN, VIRGINIA SCHOOL BANS CHRISTMAS CAROLS MENTIONING JESUS TO BE "MORE SENSITIVE TO DIVERSE POPULATION AT THE SCHOOL"
republished below in full unedited for informational, educational and research purposes:
"School administrators reportedly explained they had made the decision to 'avoid singing anything of a direct sacred nature' in order to be 'more sensitive to the increasing diverse population at the school.'"
Hmm. Who could they have in mind who might be offended by the mention of Jesus at Christmas? Jews have been in the U.S. from the beginning, and never had any problem. And this is Virginia, where there is a large and rapidly expanding Muslim population. Clearly this decision was made to avoid offending Muslims. How wonderful, generous and multicultural! Now: where is the Islamic school in Saudi Arabia, Iran, or Pakistan that is avoiding mention of Muhammad to keep from offending Christians?
"Virginia School Bans Christmas Carols Mentioning 'Jesus,'" by Thomas D. Williams,
Breitbart
, November 30, 2018:
To celebrate the birthday of Jesus Christ, the Robious Middle School in Midlothian, Virginia, has banned any Christmas carols that mention the name of Jesus.
School administrators reportedly explained they had made the decision to "avoid singing anything of a direct sacred nature" in order to be "more sensitive to the increasing diverse population at the school."
David Allen, the father of a student at Robious Middle School, has expressed his concern over the exclusion of Jesus from Christmas songs to be performed at school Christmas concerts.
Allen said students were forbidden from singing a particular carol "because the word Jesus was in there and apparently someone assumed it was of a sacred nature."
According to Allen, it seems as if "everywhere you look everyone's afraid of stepping on someone's toes or everything is being so sensitive."
In an email exchange with Allen, the school's choir director said that the Jesus ban stems from problems experienced by students.
"We had a few students who weren't comfortable singing a piece I have done many times in the past, but it is of a sacred nature and does mention Jesus," the choir director wrote.
While this exchange was going on, Allen said he had received a "diversity notice" from the school explaining their commitment to diversity and inclusion, which struck him as paradoxical.
"I'm trying to rationalize how you can encourage diversity and yet be exclusionary in one specific area," Allen remarked.


Attorney Michael Berry of First Liberty Institute

wrote a letter to the Chesterfield County School District, of which Robious Middle School is a part, explaining that that, legally, public schools have no reason to ban Jesus from Christmas concerts or other celebrations.


"Federal courts have upheld the constitutionality of public school holiday programs that include the use of religious music, art, or drama," Berry wrote, "so long as the material is presented in an objective manner 'as a traditional part of the cultural and religious heritage of the particular holiday.'"…
_____________________________________________________________
Dr. Derek Wasnock
Principal, Robious Middle School
Email: Derek_Wasnock@ccpsnet.net
Phone: 804-378-2510
Chesterfield County School Board
Email: ccpsschoolboard@ccpsnet.net
Mr. John M. Erbach, Chairman
Voicemail: 804-332-1826
Email: jm_erbach@ccpsnet.net