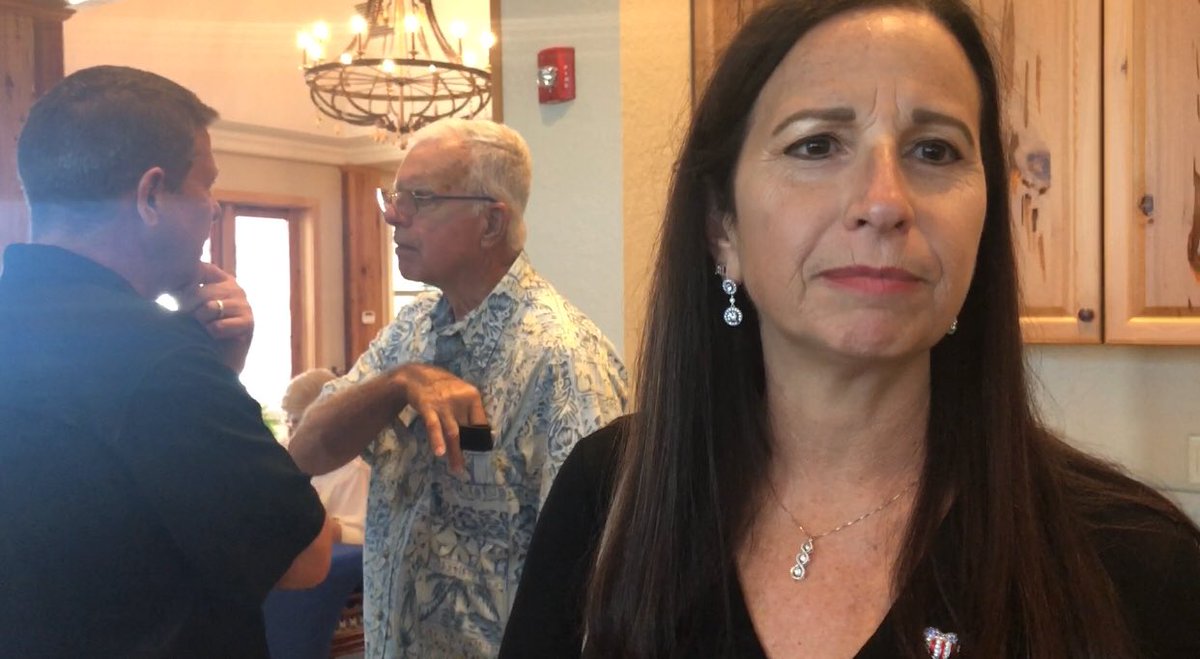 FLORIDA: GOP CANDIDATE AMIRA DAJANI, A/K/A AMY FOX, ASKED ABOUT HER PLO TERRORIST TIES
Republican Candidate for FL State Attorney CONFRONTED Over Her Ties To Islamic PLO Terrorism
DODGES LAURA LOOMER'S QUESTIONS; HAS LOOMER EJECTED
Laura asked Amira Dajani about her PLO family ties! Amira appears to be open to talking until the hard question is posed! No answers once again! Amira CAN NOT be trusted in the critical position of FL State Attorney!
"Amira Dajani, who refuses to tell voters if she subscribes to her father and Uncle's anti-Semitic activities, also refuses to say whether or not she supports the implementation of Sharia Law in the US," wrote Jacob Engels in the Central Florida Post.
Amira's father Taher Dajani, 84, is currently living in Fort Myers, where she is running for office.

Excerpt from: CFL Post article, by Jacob Engels, August 7, 2018:


Amy Fox, whose real name is Amira Dajani

, a fact that she has worked to conceal from voters in the GOP primary. Dajani's Uncle served in high-level leadership roles for the group on several occasions. Her father penned a book titled "From Palestine to America" that included passages full of commentary viewed by many to be anti-Semitic, anti-American, and anti-Christian, and anti-Israel.
It included chapters where he expressed anger at the "Jewish Lobby" and the "Christian Right." Dajani's father also championed war against Israel and accused Jews of using Arabs as human shields. Amira Dajani has refused to clarify whether or not she holds the same opinions of her father, who dedicated the book to her and has donated $1,000 to her campaign.
________________________________________________________________
Attorney Chris Crowley, a candidate for state attorney of the 20th Judicial Circuit, challenged his opponent in the race, current chief assistant state attorney Amira Fox, to renounce a book written by her father 10 years ago.
(Photo: Michael Braun/The News-Press)
EXCERPTS:

"
Over a week after we highlighted Amira Dajani's close family ties to the Palestinian Liberation Organization and how she utilized her public office to arrest her opponent, we have learned that one of her top allies is now trying to get her opponent disbarred.
Chris Crowley, a conservative Gulf War veteran who is running against Amira Dajani to be the State Attorney in Florida's 20th judicial circuit, has not shied away from discussing his opponent's questionable ties in one of Florida's most raucous primary elections.
He has even been backed by Trump advisor and NYT bestseller Roger Stone, who rallied for Crowley in Naples, FL in late July."
EXCERPTS:

"Not only are Amira's claims that the recording constitutes a felony completely wrong, but it is a form on intimidation in which she exaggerated the law in an attempt to silence, threaten, and intimidate a Conservative journalist who simply asked a question in a polite manner. If elected to State Attorney, how else will Amira try to silence those who challenge her? How else will she abuse her position of power to silence the press and those who shed light on her disturbing family history?"
"There are no Democrats running for the position of state attorney in Fort Myers, which means that the winner of the Republican primary will become state attorney after Florida voters head to to the polls for the Florida primary on August 28. The voters of Florida must now decide whether or not they can afford to vote for a terror tied candidate who has refused to condemn the PLO and has expressed hostility towards a Jewish Conservative journalist."