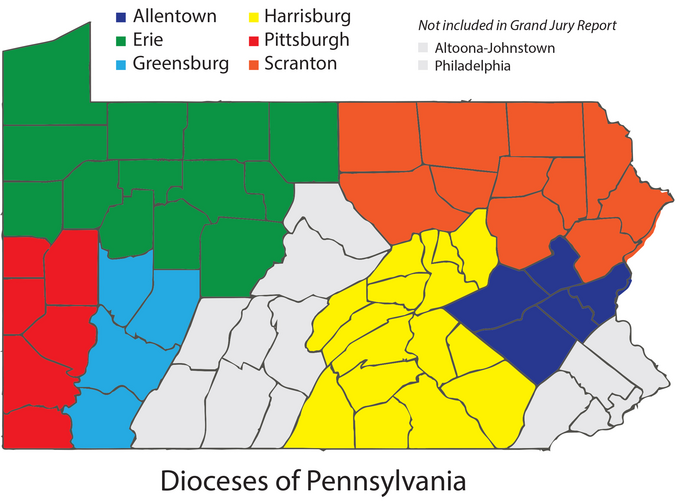 G
RAND JURY REPORT IDENTIFIES MORE THAN 1,000 VICTIMS OF PRIEST ABUSE IN PENNSYLVANIA
(Friday Church News Notes, August 24, 2018, www.wayoflife.org, fbns@wayoflife.org, 866-295-4143) -
A grand jury has concluded that more than 1,000 children were abused by Roman Catholic priests in six Pennsylvania dioceses alone over the last several decades. The report, the product of a two-year investigation, identified 300 abusing priests and lay "brothers" and found evidence of a systematic cover-up by senior church leaders in Pennsylvania and at the Vatican in Rome ("Report Identifies More Than 1,000," Associated Press, Aug. 14, 2018). At a news conference, Pennsylvania Attorney General Josh Shapiro said, "The cover-up was sophisticated. And all the while, shockingly, church leadership kept records of the abuse and the cover-up. These documents, from the dioceses' own 'Secret Archives,' formed the backbone of this investigation." The six dioceses represent only half of the Catholic churches in Pennsylvania. Most of the victims were boys. The Roman Catholic Church in America has paid over $2 billion to settle lawsuits against immoral priests. The Bishop Accountability organization said that more than 4,000 priests have been accused of abusing children ("US Church to Pay 12.6 Million," AFP, Aug. 11, 2008). A conservative Catholic organization documented this wretched business in the fall/winter 2002 issue of the magazine
Ad Majorem Dei Gloriam
, observing: "… the overwhelming majority of sexual abuse cases in the Catholic Church--about 90%--involve homosexual priests preying on teenage boys. The major media and the U.S. culture at large want to deny or spin the homosexual factor out of the scandal." In a recent interview, Cardinal Raymond Burke said, "I believe that there needs to be an open recognition that we have a very grave problem of a homosexual culture in the Church, especially among the clergy and the hierarchy..." ("Cardinal Burke Addresses the Clergy Scandal," Catholic Action for Faith and Family, Aug. 16, 2018). This is not a problem limited to America. In 2003, the Roman Catholic Church in Ireland agreed to pay $110 million to avoid further sex scandal litigation. In 2013, Pope Francis acknowledged that a "gay lobby" exists in the highest levels of Catholicism. "In the Curia, there are holy people. But there is also a stream of corruption. The 'gay lobby' is mentioned, and it is true, it is there. We need to see what we can do" ("Pope Francis,"
CNN Belief Blog
, June 11, 2013). The pope was referring to reports that appeared in Italian newspapers in 2012 based on leaks to journalists from Vatican insiders.
La Repubblica
said there are "high-level Vatican clergy involved in homosexual affairs." Rome's doctrine of "celibacy" is defiance to God's Word and is a terrible farce.
______________________________________________________________
Another torpedo of admission has blown the hull of the Vatican. The National Catholic Register reports "...a former apostolic nuncio to the United States has accused several senior prelates of complicity in covering up Archbishop Theodore McCarrick's allegations of sexual abuse, and has claimed that Pope Francis knew about sanctions imposed on then-Cardinal McCarrick by Pope Benedict XVI but chose to repeal them." It had been 39 years since the Pope had visited Ireland. Pope Francis addressed the outrage that unfortunately defines the modern Catholic Church after decades of sexual abuse of children. But many heard a hollow broken record playing since reports of abuse began emerging In Ireland in the 1980's. It appears no amount of rehabilitation will ever stop this juggernaut of sanctioned child sexual abuse. In my opinion the Catholic Church system as it is, a pedophile empowerment system should not be allowed to continue. Why should it...How could anyone abuse a child and claim to follow the teachings of Jesus of Nazareth?
https://twitter.com/NewsBowne