BAPHOMET STATUE AT ARKANSAS STATE CAPITOL: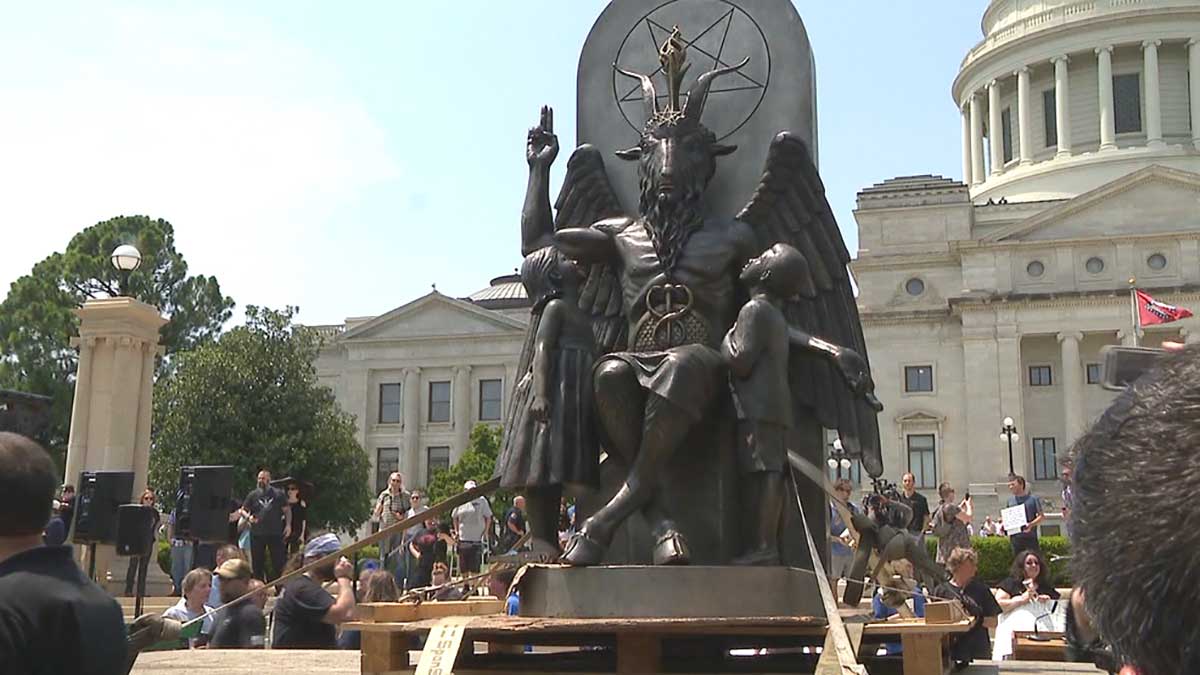 BIZARRE: AVON CATALOG FEATURES IMAGE
OF WOMAN CARESSING BAPHOMET
Goat-headed figure has long been associated with Satanism
People are questioning why an edition of the popular beauty supply catalog Avon features a woman placing her arms around a Satanic baphomet figure.
Wary social media users have commented on the bizarre cover of Avon's 22nd 2019 campaign, showing a woman in a pink wig grabbing the ears of the baphomet, a half-animal, half-human goat hybrid deity which has long been associated with Satanism.
Savvy women on Facebook and Twitter questioned the baphomet's appearance on the brochure, with one woman calling it "very frightening and concerning!"
Normalizing Satanism and the occult?
Got this handed to me today ! Avon, Campaign 22…. RT this and boycott Avon until they come to their senses. Avon…..with a baphomet head on the cover…..and pink hair……yeah, every American woman. pic.twitter.com/dT4o62PqBg
No offense #AVON but a goat head on cover? Satanic Baphomet? Mockery of the Lamb of God.
Why is nobody mentioning this? https://t.co/660vciZaRe
The baphomet has recently been in headlines as members of The Satanic Temple have attempted to have a statue of the goat-headed figure installed on the Arkansas state capital grounds, where a statue of the Ten Commandments currently stands.
From @LucienGreaves: Baphomet is not an attack on the Ten Commandments. It is an insistence on equality under the law. Goes on to thank Sen. Jason Rapert, who placed the 10 Commandments monument, for welcoming Satan and Baphomet to the Arkansas Capitol grounds. pic.twitter.com/iu1CuiJKre
Avon did not respond to Infowars request for comment as of writing.
---