BOYCOTT AIR BNB FOR ANTI-SEMITISM
"An Israeli settler sued the Airbnb hosting platform over alleged discrimination over its decision to drop listings in West Bank settlements from its vacation rental website."
"The lawsuit, which cites Israel's anti-discrimination laws, was filed with the Jerusalem District Court on Thursday on behalf of Ma'anit Rabinovich, The Jerusalem Post
reported
Friday.
'The law in Israel forbids discrimination based on the place where you live, and what Airbnb has done is by all means discrimination based on the place where you live,' said attorney Aviel Flint, a partner in the law firm Yossi Levy & Co. which is representing Rabinovich."
AND:
https://www.reuters.com/article/us-israel-palestians-airbnb-idUSKCN1NR241;
EXCERPTS:
The San Francisco-based company said this week it was removing listings of around 200 homes in settlements after hearing criticism from people who "believe companies should not profit on lands where people have been displaced". Through her attorneys, Ma'anit Rabinovich from the West Bank settlement of Kida, who offers guest room rentals, said the move "represents especially grave, offensive and outrageous discrimination". Rabinovich claimed 15,000 shekels ($2,573) in personal damages. The class action lawsuit would seek an as yet unspecified sum on behalf of others in the same situation, according to court papers presented at Jerusalem District Court.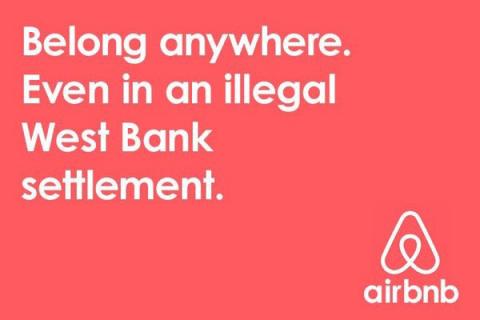 "The Yesha Council of settlements said in response that "a company that has no qualms about renting apartments in dictatorships around the world and in places that have no relationship with human rights is singling out Israel. This can only be a result of anti-Semitism or surrendering to terrorism – or both." "In response, Israel's Tourism Minister Yariv Levin instructed the ministry to restrict the company's operations across the country."
AIR BNB DELISTS JEWISH HOMES FOR RENT IN JUDEA, SAMARIA; LISTS HOMES IN TIBET
republished below in full unedited for informational, educational and research purposes: