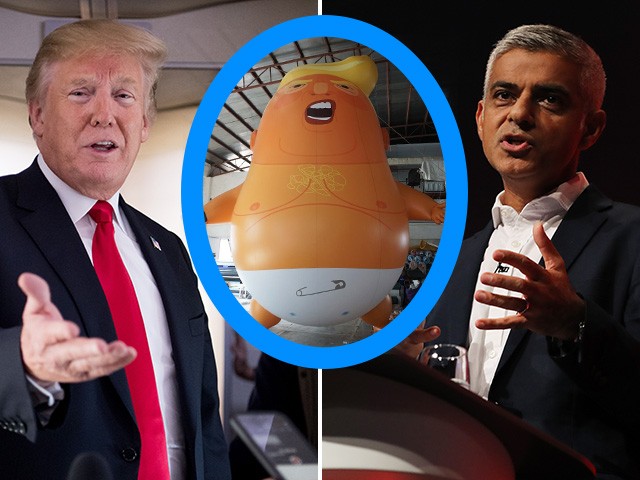 ACTIVISTS PLAN "TRUMP BABY" BALLOON FOR PRESIDENT'S U.K. VISIT, WITH LONDON MAYOR KHAN'S APPROVAL~LEFTIST STUNT LOCATION NOT YET DETERMINED
BY DAN LYMAN
Activists plan to float a large balloon designed to look like President Trump in a diaper over London during his state visit to the UK in July.
A crowdfund for operational expenses has met its goal, however the group has yet to secure a suitable location after hopes to launch the inflatable from Parliament Square Gardens or a barge on the River Thames were rejected by local government, according to updates on the fund page.
"Donald Trump is a big, angry baby with a fragile ego and tiny hands," reads the project description. "He's also racist demagogue who is a danger to women, immigrants and minorities and a mortal threat to world peace and the very future of life on earth. Moral outrage is water off a duck's back to Trump. But he really seems to hate it when people make fun of him."
"So when Trump visits the UK on Friday the 13th of July this year, we want to make sure he knows that all of Britain is looking down on him and laughing at him. That's why a group of us have chipped in and raised enough money to have a 6-meter high blimp made by a professional inflatables company, to be flown in the skies over Parliament Square during Trump's visit."
An appeal to London Mayor Sadiq Khan published in the Guardian, pleading for his approval to fly the blimp from Westminster begins, "On the morning Donald Trump was elected, I cried on the tube…"
Protesters and donators are hoping the 20-foot balloon will irritate or exasperate the man who has already weathered what is likely the most vicious and concentrated onslaught of international hatred in history.
Last summer, a California artist erected an inflatable chicken resembling President Trump in a Washington D.C. park near the White House to represent Trump as a "weak and ineffective leader."
Trump fans and Internet merrymakers gleefully embraced the Trump Chicken, appropriating the left's temper tantrum for a slew of golden memes.
---
After Approving 'Trump Baby' Balloon, Muslim Mayor Gets Dose Of Own Medicine
After okaying a 20-foot-tall "Trump Baby" balloon to be flown over Parliament Square for the U.S. President's arrival, London's Muslim Mayor Sadiq Khan just received the perfect dose of his own medicine. When Barack Obama was elected president, the left strangely lost their sense of humor in regards to satirizing the presidency. Eight years later, they've suddenly rediscovered the art of parody, relentlessly mocking President Donald Trump without end. Unfortunately, the vitriol from the left has completely clouded what little rationality they had, causing them to spiral into desperation and insanity. Of course, their unhinged rage has produced little more than pitiful and cringe-worthy protests — and it's only making the case for Trump 2020. As one of President Donald Trump's most vocal critics in the UK, London Mayor Sadiq Khan has not only called for his country's greatest and most vital ally to be banned, he's now sanctioning disrespectful and churlish demonstrations on a taxpayer-funded property. In preparation for Trump's upcoming trip to the UK on July 12 and 13, Khan gave his approval for a 20-foot "Trump baby" balloon to fly over Parliament Square during the historical visit. Khan lazily justified his approval of raising the inflatable caricature by arguing that he "supports the right to peaceful protest," according to The Sun. However, conservative counter-protesters are about to force Khan to practice what he preaches. After London Mayor Sadiq Khan approved a "Trump baby" balloon mocking the U.S. President to fly over Parliament Square, Londoners are raising funds to fly a "Khan baby" balloon, featuring an unflattering caricature of the Muslim mayor in a diaper. The fundraiser on crowdfunder.com has raised over $22,000 for the balloon, which is just $4,000 away from their new goal.
________________________________________________________________