Sexualizing Children Dehumanizes Them
LIBRARY SYSTEM HOSTING "OVER THE TOP" STORY HOUR WITH MEN, WOMEN
"STRUTTING THEIR STUFF" IN DRAG
BY HEATHER CLARK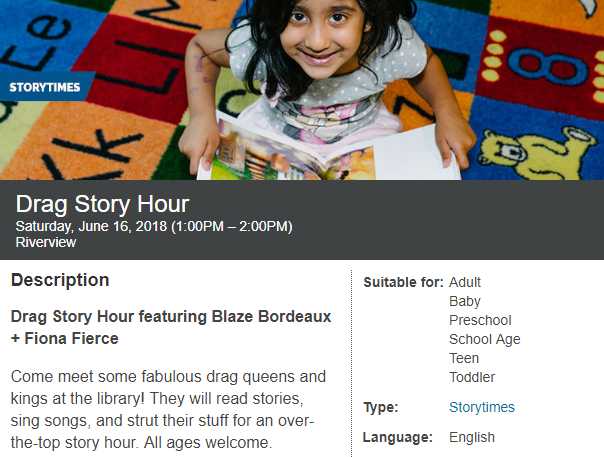 SAINT PAUL, Minn. —
A library system in Minnesota is raising concern as it recently announced that it will be hosting three "over-the-top" drag story hours in June and July, billing the event as being geared toward families and suitable for babies, toddlers, preschoolers and teens.
"Come meet some fabulous drag queens and kings at the library! They will read stories, sing songs, and strut their stuff for an over-the-top story hour. All ages welcome," a press release from the Saint Paul Public Library system reads.
The events coincide with homosexual and transgender pride month, and is being held in conjunction with the organization Flip Phone, which features a number of risque photos on its social media pages. The story hours are stated to feature two drag performers each, which include women dressed as men, also known as "drag kings," at some events.
"Drag pushes people to break boundaries and explore creativity," remarked Flip Phone Founder Chad Kampe. "At a very young age, we are taught to embrace our differences. Drag not only provides an opportunity to embrace who we are, it allows for us to broadcast and share who we are with the world."
The first event was held on Monday evening at the Rondo Community Library and featured drag performers Utica and Sasha Cassadine, who read stories, sang songs, and danced with the children in attendance. One of the stories read was "Julian Is a Mermaid," a book about a boy who wants to dress up like a mermaid after seeing three women do so.
The children also gathered around one of the men dressed in drag for a group photo.
The story hour is additionally scheduled to be held on June 16 at the Riverview location and on July 11 at the George Latimer Central Library. The Saint Paul library system has further created a page on its website that includes recommended books, movies and online resources as a "primer to drag culture," such as the movie "Kinky Boots," "RuPaul's Drag Race" and the book "Does This Book Make My Butt Look Big?"
It also features recommended homosexual and transgender themed books that the library finds suitable for children ages 0-6, such as "Daddy, Papa and Me," "I Am Jazz," "My Two Moms," and "Worm Loves Worm."
Some local residents and others have expressed concern about the story hour, writing messages of opposition on the system's social media pages.
"I would sue your library if I ever walked in with my children and they seen such disgusting things. This is shameful. This is sick!" one commenter wrote.
"I want my tax dollars back," another stated.
Flip Phone had stated that the library was being "mega-trolled," but most remarks of opposition are no longer viewable. It is unclear as to whether or not they were deleted by library staff.
"This agenda is just coming on so strong," one mother told the outlet Intellectual Takeout. "A very sad day has arrived when we are handing our children over with their innocence and their pure minds and filling them with such confusion."
American statesman Daniel Webster once warned, "If the power of the gospel is not felt throughout the length and breadth of the land, anarchy and misrule, degradation and misery, corruption and darkness will reign without mitigation or end."
Administration Office

George Latimer Central Library
90 W 4th St.
Saint Paul, MN 55102
651-266-7073
DRAG "READING MATERIALS" AT THIS LIBRARY:
_____________________________________________________
EXCERPTS:
"Just when you thought the cultural left (or whatever we call it these days) had gone too far, the Saint Paul Public Library, and other publicly funded libraries across the country, announced their idea of "summer reading" and entertainment for our children: a drag queen show."
"In addition to Drag Story Hour, patrons can find a selection of staff-recommended materials on the library's website for Pride, including a fun primer on drag culture with recommended DVDs, books, and online resources. Learn more at sppl.org/webelongtogether."
Please write to your mayor and city council, and state legislators, too. And copy the head of St. Paul Library. Her name is Beth Burns 651-288- 0411 | beth@thefriends.org
Here is the staff directory.
______________________________________________________
ALSO SEE OUR PREVIOUS POSTS:
RELEVANT POSTS:
https://ratherexposethem.blogspot.com/2017/05/park-slope-brooklyn-new-york-city-hosts.html
MICHELLE OBAMA LIBRARY:
https://ratherexposethem.blogspot.com/2017/10/cross-dressing-drag-queen-demon-speaks.html
AND ALL OUR POSTS ABOUT DRAG ENTERTAINMENT FOR YOUNG CHILDREN, AND IN CHURCHES, UNIVERSITIES & THE MILITARY:
https://ratherexposethem.blogspot.com/search?q=DRAG