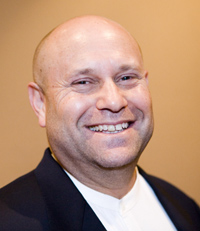 ABOVE: MIKEY WEINSTEIN, PRESIDENT OF FFRF
EXCERPT:
DAN BARKER and ANNIE LAURIE GAYLOR are co-presidents of the Freedom From Religion Foundation and co-hosts of Freethought Radio. A former minister and evangelist, Dan became a freethinker in 1983. His books,
Just Pretend: A Freethought Book for Children
and
Losing Faith in Faith: From Preacher To Atheist
(1992) are published by FFRF. Other books include
Godless
(Ulysses Press, 2008),
The Good Atheist: Living a Purpose-Filled Life Without God
(Pitchstone Publishing, 2011),
Life Driven Purpose: How an Atheist Finds Meaning
, Pitchstone Press (2015) and
GOD: The Most Unpleasant Character in All Fiction
(Sterling Publications, 2016). A graduate of Azusa Pacific University with a degree in religion, Dan now puts his knowledge of Christianity to effective freethought use. A professional pianist and composer, Dan performs freethought concerts and is featured in FFRF's musical CDs, "Friendly Neighborhood Atheist," "Beware of Dogma," and "Adrift on a Star." He joined FFRF's staff in 1987, serving as public relations director. He was first elected co-president in November 2004, speaks widely and has engaged in more than 100 debates about religion.
Annie Laurie Gaylor, a third-generation freethinker, co-founded FFRF with her mother Anne Gaylor as a college student in 1976. She served as editor of Freethought Today, FFRF's newspaper, from 1985 to 2009. Her book, Woe to the Women: The Bible Tells Me So, first published by FFRF in 1981, is in its 4th printing. In 1988, FFRF published Betrayal of Trust: Clergy Abuse of Children, the first book documenting widespread sexual abuse by clergy. Her 1997 anthology, Women Without Superstition: 'No Gods, No Masters,' is the first collection of the writings of historic and contemporary women freethinkers. A 1980 graduate of the University of Wisconsin-Madison Journalism School, she was an award-winning student reporter and recipient of the Ken Purdy scholarship. After graduation, she founded, edited and published the Feminist Connection, a monthly advocacy newspaper, from 1980-1985. She first joined the FFRF staff in 1985. She has been co-president since 2004. In the late 1970s, her student protest ended commencement prayers at the UW-Madison. She has been plaintiff in or overseen many state/church lawsuits and actions by FFRF. Dan and Annie Laurie have appeared on a variety of TV news shows, including "Oprah," "O'Reilly," "Good Morning America," Univision, CNN and FOX news segments, CBS Evening News and ABC World News Tonight.
ACTIVIST GROUP SUES HOUSE CHAPLAIN & SPEAKER FOR REJECTING ATHEIST INVOCATION IN U.S. CONGRESS
BY HEATHER CLARK
republished below in full unedited for informational, educational, and research purposes:

A painting of the first prayer in Congress in September 1774. 
Artist: T.H. Matteson, 1848.



MADISON, Wisc. —

 A professing atheist group that seeks to separate God from government has filed a lawsuit against the chaplain of the U.S. House of Representatives, as well as the speaker of the House, after the co-president of the Godless group was prevented from delivering an atheist invocation before Congress.





Dan Barker, the co-president of the Wisconsin-based Freedom From Religion Foundation (FFRF), filed the suit on Thursday—the National Day of Prayer. It names Patrick Conroy, Speaker Paul Ryan and members of Conroy's staff as defendants.







According to FFRF, Rep. Mark Pocan, D-Madison, had sponsored Barker to deliver the invocation as a Congressional guest in February 2015. Conroy's office notified Barker that all guest chaplains must be "ordained by a recognized body in the faith in which he/she practices" and must present a copy of their ordination certificate as proof. He also advised that the invocation must address a "higher power."













"This is a substantive requirement—not a mechanical or check-the-box requirement," Conroy advised. "For example, I do not invite member-recommended individuals who have obtained an Internet-generated ordination to serve as guest chaplains, even if they hold deep and long-standing religious beliefs."







Barker had formerly served as a minister in California, being ordained in 1975, but proclaimed his atheism in 1984 and no longer is affiliated with any Christian denomination. He still uses his ordination, however, as a means to officiate weddings.







Believing that this was sufficient, Barker consequently submitted his ordination certificate to Conroy's office. In regard to addressing a "higher power," he provided Conroy with the text of his planned invocation, stating that he believes there is no higher power than "we, the people of these United States."







But Conroy was not convinced that Barker qualified under the rules about guest chaplains, and the matter remained outstanding for nearly a year when Conroy advised Barker in January 2016 that he was denying his appearance because he has "announced his atheism publicly" and is not a true "minister of the gospel."







"Daniel Barker was ordained in a denomination in which he no longer practices," an email from Conroy's office outlined.







Barker now alleges that Conroy has violated his rights by prohibiting him from delivering an invocation. He specifically contends that the rejection is a violation of the federal Religious Freedom Restoration Act (RFRA), which states that the government must not "substantially burden a person's exercise of religion" unless there is a "compelling government interest" in doing so.







The FFRF co-president also says that the Congressional policy violates the Establishment Clause of the First Amendment by preferring religion over non-religion, as well as Article VI, Section III of the U.S. Constitution, which states that "no religious test shall ever be required as a qualification to any office." He takes issue with the fact that the vast majority of the prayers delivered before Congress are Christian.







"We take some satisfaction in filing this lawsuit on the National Day of Prayer, an unconstitutional law enacted at the behest of Billy Graham in 1952 requiring the president to issue an annual proclamation exhorting citizens 'to turn to God in prayer, at churches,'" Barker said in a statement.







His wife, co-president Annie Laurie Gaylor, acknowledged to reporters, "This is a hard case to take and win. We know that."