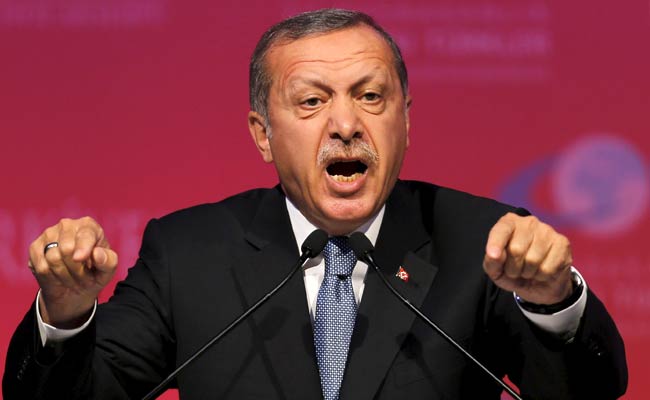 TURKEY: ERDOGAN SAYS TRUMP'S NOT HOLDING RAMADAN DINNER AT WHITE HOUSE CASTS DOUBT ON U.S. SUPPORT FOR FREEDOM OF RELIGION
republished below in full unedited for informational, educational, and research purposes:
What a hypocrite. Freedom of religion? If Erdogan values the freedom of religion so highly, why is he trying to choke off and destroy the Greek Orthodox Church by requiring that the Ecumenical Patriarch be a Turkish citizen, and yet closing and refusing to allow the reopening of the only Greek Orthodox seminary in the country? Erdogan has never visited the Christian institutions in Turkey, and has consistently refused to recognize the Ecumenical Patriarch. The hypocrisy of his self-righteous moralizing regarding the Ramadan iftar is compounded by Turkey's steadfast refusal to admit its complicity in the Armenian Genocide and the Greek and Syro-Chaldean obliteration from Asia Minor.
If Erdogan really believes in religious freedom, he could show it by visiting the Ecumenical Patriarchate and recognizing the right of Christians to live in Turkey. He could allow the Orthodox seminary to reopen. He could maintain the Hagia Sophia as a museum, without continuing its reconversion into a mosque. Of course, if he really wanted to show his respect for the freedom of religion in a big way, he could give it back to the Christian community for use as a cathedral, with an apology for 450 years of persecution of the Christians under Ottoman and then secular Turkish rule.
It is, of course, virtually inconceivable that he would do that. I only suggest it to cast his hypocrisy in sharp relief. This is a man who has systematically pursued policies to reduce and ultimately destroy the Christian presence in his country, depending on the ignorance and indifference of the outside world regarding the persecution of Christians in Turkey in order to lecture Trump about the freedom of religion. Erdogan could himself benefit from a few honest lectures about what the freedom of religion actually means.
"Turkey: Erdogan challenges US freedom of worship," by Jaber Ali,
Middle East Confidential
, June 2, 2017:
President Erdogan has questioned Trump's administration claim of respecting the freedom of religion during an Iftar dinner in Ankara.




In a message directed at Washington during his address, the Turkish president raised concerns about Trump administration's decision to not host an Iftar-dinner as part of events marking the Muslim Holy month of Ramadan.




Upholding such a decision will be discriminatory, Erdogan said as he reminded the U.S. of their claimed promotion of freedom of worship. "Did you not say you did not oppose freedom of religion?" he asked….




A concrete decision is yet to be made but President Erdogan has signaled that failing to host a dinner could lead "views on the United States to change." He didn't go into details on how the relationship between them will be affected.


Turkey has often highlighted that its ties with the U.S. would be affected due to its national security concerns that is, it claims, being jeopardized by individuals and groups resident in the US or in the Middle East. "We know what those who smile at our face do in our back" Erdogan stated as he raised the cases of Reza Zarrab, a Turkish-Iranian man who faces trial in the U.S. on allegations of busting sanctions against Iran, and Fethullah Gulen, accused of pioneering the failed 2015 coup plot. The latest arming of the Kurdish fighters in Syria was also a cause of alarm for the authorities in Anakra.


"From now on, everything will be reciprocal," Erdogan warned. Washington has not yet reacted to his address.