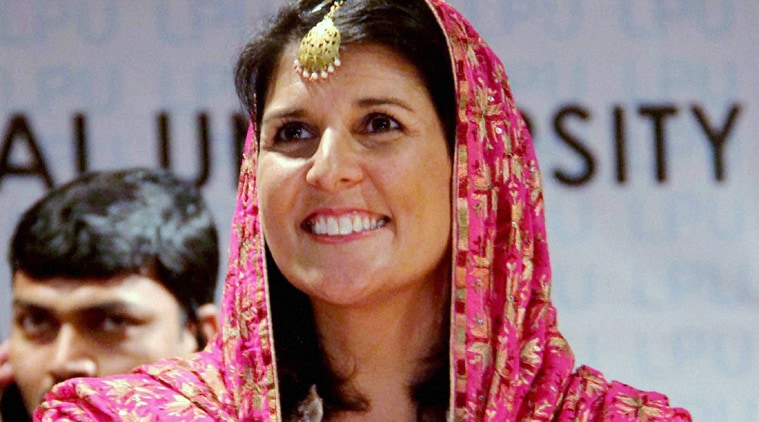 NIKKI HALEY PICKED AS U.N. AMBASSADOR
BY DONALD TRUMP
BY CHERYL CHUMLEY
Nikki Haley was chosen by Donald Trump for U.S. ambassador to the United Nations.[/caption]
"South Carolina Gov. Nikki Haley has accepted Donald Trump's offer to be his ambassador to the United Nations, a source familiar with the president-elect's transition process confirmed to NBC News on Wednesday.

"Haley, 44, is a two-term governor. She initially backed Trump rivals Sen. Marco Rubio and then Sen. Ted Cruz during the GOP battle for a White House nominee. …

"Trump's selection of Haley caps a remarkable year for their political relationship. They started 2016 with a fight and are ending it as allies in a nascent Trump administration.

"The pair feuded in January after Haley's Republican response to President Barack Obama's State of the Union, during which she took a thinly-veiled swipe at Trump, warning against 'the siren call of the angriest voices.'"
The announcement was surprising to some, given Haley's staunch opposition to Trump during the campaign. Haley is largely seen as more moderate than others who had been considered for the role, like John Bolton, the former U.S. ambassador to the United Nations, under George W. Bush's presidency.
Still, Haley did in October announce she would vote for Trump, though she added she was "not a fan" of his.
An official announcement from the Trump transition team is expected sometime Wednesday.
Haley, 44, doesn't have much foreign policy experience. And that lack of experience is likely to cause a wave of opposition during Senate confirmation hearings.
"Recent UN ambassadors typically have experience in presidential administrations, usually with the State Department or National Security Council. The post would be Haley's first in the federal government.

"The Trump administration is likely banking on Haley's strong communication and problem-solving skills in being the U.S. representative at the 193-member United Nations in New York.

"The governor won praise for her calm handling of the racially-charged Charleston church shooting and historic flood that took place just less than four months apart last year. After the shooting, she persuaded lawmakers to remove the Confederate battle flag that had flown on the Statehouse grounds for more than 50 years."