GOVERNMENT BLACKMAIL & EXTORTION UNDER PRETENSE OF LAW
ABOVE: VANITA GUPTA WITH ATTORNEY GENERAL LORETTA LYNCH
U.S. JUSTICE DEPARTMENT DEMANDS NORTH CAROLINA NOT ENFORCE NEW RESTROOM LAW
BY HEATHER CLARK
WASHINGTON —
The U.S. Department of Justice has sent a letter to the governor of North Carolina declaring that a newly-passed law requiring the use of government restrooms to be consistent with one's birth gender violates the federal Civil Rights Act, and is demanding confirmation by Monday that officials "will not comply with or implement" the restroom requirement.
The letter, issued Wednesday to Gov. Pat McCrory, was written by Principal Deputy Assistant Attorney General Vanita Gupta, and accuses the state of violating federal law by not allowing men who identify as women and vice versa in the restroom that correlates with their gender identity.
"The State is engaging in a pattern or practice of discrimination against transgender state employees, and both you in your official capacity and the state are engaging in a pattern or practice of resistance to the full enjoyment of Title VII rights by transgender employees of public agencies," she wrote.
The correspondence focused on government employees who identify as the opposite gender.
"Access to sex-segregated restrooms and other workplace facilities consistent with gender identity is a term, condition or privilege of employment," Gupta said. "Denying such access to transgender individuals, whose gender identity is different from the gender assigned at birth, while affording it to similarly situated non-transgender employees, violates Title VII."
The cited section of federal law prohibits employers from discriminating against a person because of their gender. The law has generally been considered as applying to discrimination against women in treating females as inferior to males.
Gupta also referenced Title IX of the Education Amendments of 1972, which prohibits educational institutions from discriminating against a person based on their gender.
"No person in the United States shall, on the basis of sex, be excluded from participation in, be denied the benefits of, or be subjected to discrimination under any education program or activity receiving federal financial assistance," it reads.
But Gupta says that the courts have interpreted the law as applying to gender identity issues as well, and therefore, "H.B. 2, which took effect on March 23, 2016, is facially discriminatory against transgender employees on the basis of sex because it treats transgender employees, whose gender identity does not match their biological sex, as defined by H.B. 2, differently from similarly situated non transgender employees."
She gave McCrory until Monday to advise the Department of Justice that the state will not "comply with or implement" the state's newly-passed restroom law, and that it will notify state employees that "they are permitted to access bathrooms and other facilities consistent with their gender identity."
McCrory has yet to comment on the letter, but has advised in previous comments that H.B. 2 permits those who identify as transgender to use the restroom that correlates with their preferred identity if they obtain a revised birth certificate.
North Carolina could be stripped of millions in federal funding if its stands its ground in upholding its prohibitions against men in women's restrooms and vice versa. The law solely applied to government buildings and did not govern private businesses, which are free to set their own policies.
______________________________________________________
DOJ'S EMPLOYMENT LITIGATION CHIEF, CIVIL RIGHTS DIV., DELORA KENNEBREW:
https://www.justice.gov/crt/employment-litigation-section
SEE ALSO:
http://www.thenewamerican.com/usnews/item/23116-doj-claims-nc-transgender-bill-violates-civil-rights-laws;
EXCERPT:
"
However,
constitution.com pointed out
the federal argument is based upon logical quicksand because to prove that a state is violating laws (really edicts) about gender (really one's biological sex, people don't have a gender; only words do), people must first be able to solidly define gender:
Title VII of the Civil Rights Act states that a person cannot be discriminated against by an employer on the basis of sex, race, color, national origin, or religion. So this means that the DOJ is applying this to gender.
But, this would mean that there is a definition of gender. If there is a definition, then we should be able to determine a person's gender. We would have to to determine if that was the basis for the discrimination.
The trouble this will cause for the DOJ, many who suffer from Gender dysfunction have not decided which gender they are yet. The only real test would be physical. If this is the test, then NC is in perfect compliance with the law."
______________________________________________________
GUPTA, THE "SOCIAL JUSTICE" WARRIOR APPOINTED BY OBAMA
TO CREATE AGITATION ABOUT "SYSTEMIC DISCRIMINATION" & "VICTIMIZATION"
WITH MICHELLE OBAMA HELPING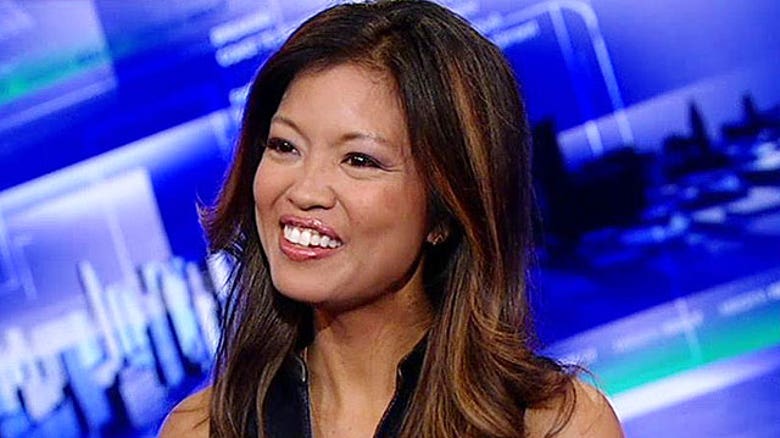 MICHELLE MALKIN ABOVE; VANITA GUPTA BELOW
Malkin: Obama's DOJ Has Become the 'Department of Social Justice'
On "The Kelly File" tonight, Michelle Malkin reacted to the head of the Department of Justice Civil Rights Division blaming the Baltimore riots on slavery.
Megyn Kelly explained that during a speech yesterday, Vanita Gupta said that the "looting, mayhem and violence is based on a mistrust" of police officers, stemming from their "predecessor's enforcement of slavery and Jim Crow laws."
Malkin said that Gupta is "emblematic of the radical transformation that's taken place at the Department of Justice."
"You have a Department of Justice that is actually the department of social justice," Malkin said.
She said that Gupta has no pretense of being a neutral arbiter of the law.
"To invoke Jim Crow is pouring gasoline on a fire that has been raging for decades," Malkin said. "It is so poisonous. Not only does it continue to put our law enforcement officers of all colors in danger, but it also stokes this racial resentment and division."
Malkin asserted that this is the climate that "progressive ideologues" like President Obama and Gupta have been "marinated in."
She said that her book delivers a message to young people about the promise of social mobility in America.
Watch the video:
MUST SEE:
Culture of Victimization Exposed by Michelle Malkin

Published on May 20, 2015

Michelle joins Megyn Kelly to discuss Race Victimization tactics of the left's Vinita Gupta and Michelle Obama, as well as her New Book 'Who Built That'
_________________________________________________
Obama picks Indian Vanita Gupta as civil rights chief

Published on Oct 16, 2014

A graduate of Yale and New York University Law School, Gupta, started her career at the NAACP Legal Defense Fund, by creating a stir. She jumped into a massive drug case out of Tulia in Texas where 46 African Americans were wrongfully convicted of selling cocaine. She exposed the flimsy evidence and testimony wrought by a racist undercover narcotics officer, Tom Coleman. She was able to reverse the convictions and negotiate a $5 million settlement for the group of men. The case inspired Hollywood to try and make a film on the Indian American civil rights lawyer with Halle Berry playing the lead.
SEE ALSO:
Acting Assistant Attorney General | DOJ excessive force investigation of Cleveland Police

Vanita Gupta addresses the Department of Justice investigation of the Cleveland Division of police and its use of force which began in March of 2013 and concluded after the killing of 12-year-old Tamir Rice.

DOJ determined a pattern and practice of unreasonable and excessive of force.

Confidence between community and police department is a national problem, Gupta says.

Findings are in part:

Officers fired guns at people who did not pose "an immediate threat of death or serious bodily injury to officers or others." -- Officers used guns in a "careless and dangerous manner." -- Officers used stun guns and pepper spray instead of trying to de-escalate situations. -- Officers arrested and assaulted mentally ill people after family members called police for help. -- Officers reported receiving little supervision, guidance, and support, leaving them to determine for themselves how to perform their jobs.

Full story at WEWS: http://www.newsnet5.com/news/local-ne...

Vanita Gupta is Acting Assistant Attorney General and a civil rights lawyer. Gupta has served as Deputy Legal Director of the American Civil Liberties Union overseeing the ACLU's national criminal justice reform efforts.
GUPTA AT MUSLIM PUBLIC AFFAIRS COUNCIL GALA
Published on Dec 31, 2014
Vanita Gupta, Assistant Attorney General for the Civil Rights Division addresses the 2014 MPAC Gala and recognizes the important work MPAC is doing on behalf of the American Muslim community.
Obama Threatens: Co-Ed Bathrooms or Lose Education Funding