FREE CONCEALED CARRY CLASS
AT LIBERTY UNIVERSITY
SPEAKING OF THE SAN BERNARDINO SHOOTING VICTIMS:
"IF ONLY THEY HAD WHAT I HAVE IN MY BACK POCKET NOW!"

Liberty University President Draws Concern After Telling Students: 'We Could End Those Muslims' With Guns
BY HEATHER CLARK
LYNCHBURG, Va. —
The president of what is purportedly the largest Christian university in the world remains unremorseful after concerns were raised over the spirit of his comments about "ending Muslims" that he made to students and faculty at a convocation on Friday, which also drew applause from those gathered.
"I've always thought, if more good people had concealed carry permits, then we could end those Muslims before they walked in and killed them," Jerry Falwell, Jr. said on Friday to unreserved applause in speaking about Wednesday's San Bernardino massacre.
"I just wanted to take this opportunity to encourage all of you to get your permit. We offer a free course," he said. "Let's teach them a lesson if they ever show up here."
The thousands present again applauded enthusiastically and cheered, with some smiling wide and one man in view of the camera giving the remarks a standing ovation.
Falwell told the Washington Post that his comments resulted in the most positive feedback he has ever received for a convocation.
"The support here on campus is almost universal," he stated.
He went on to reTweet social media posts in support of his remarks, including one that read, "S*CK IT, Muslim extremists," adding a link to the school's gun course. The account of the original Tweeter is now unavailable.
However, when some became aware of Falwell's statements, they expressed concern about the spirit of his statements in killing Muslims.
"My administration is committed to making Virginia an open and welcoming Commonwealth, while also ensuring the safety of all of our citizens. Mr. Falwell's rash and repugnant comments detract from both of those crucial goals," said Gov. Terry McAuliffe in a statement. "Those of us in leadership positions, whether in government or education, must take care to remember the tremendous harm that can result from reckless words."
Some online commenters, while supporting the Second Amendment, also disagreed with how Falwell expressed his views.
"I think Falwell has made the situation more tense rather than less tense by his choice of language," one wrote.
"I'm trying to imagine Jesus saying what Jerry Falwell Jr. said," another stated. "I'm having trouble. I don't think Jesus would be big on the tough talk or brag about the gun he's carrying."
Falwell told reporters that he doesn't regret his statements per se, but would have inserted the word "extremists" to clarify.
"If I had to say what I said again, I'd say exactly the same thing," he said.
________________________________________________________________
Liberty president calls for an armed Christian campus

Liberty University President Jerry Falwell Jr. urged students, staff and faculty at his Christian school to get a permit to carry a concealed weapon on campus to counter any copycat attack like the deadly rampage in California just days ago.

"Let's teach them a lesson if they ever show up here," Falwell told an estimated 10,000 of the campus community at convocation Friday in Lynchburg. While Falwell's call to arms was applauded, his remarks also seemed to target Muslims.

"I've always thought if more good people had concealed carry permits, then we could end those Muslims before they walked in .," Falwell said. The final words of his statement could not be clearly heard on a videotape of the remarks.
Jerry Falwell, Jr. defends his statements about Muslims and gun control opposition
INTERVIEW WITH HANNITY
FALWELL RECALLS KILLING OF 30 AT VIRGINIA TECH
HILLARY CLINTON JUMPS ON FALWELL
FALWELL CALLS HILLARY A "DEPLORABLE LIAR"
CLINTON: ARMED DEFENSE AGAINST VIOLENT JIHADISTS IS HATEFUL
CLINTON THINKS FALWELL'S REMARKS FOMENT TERRORISM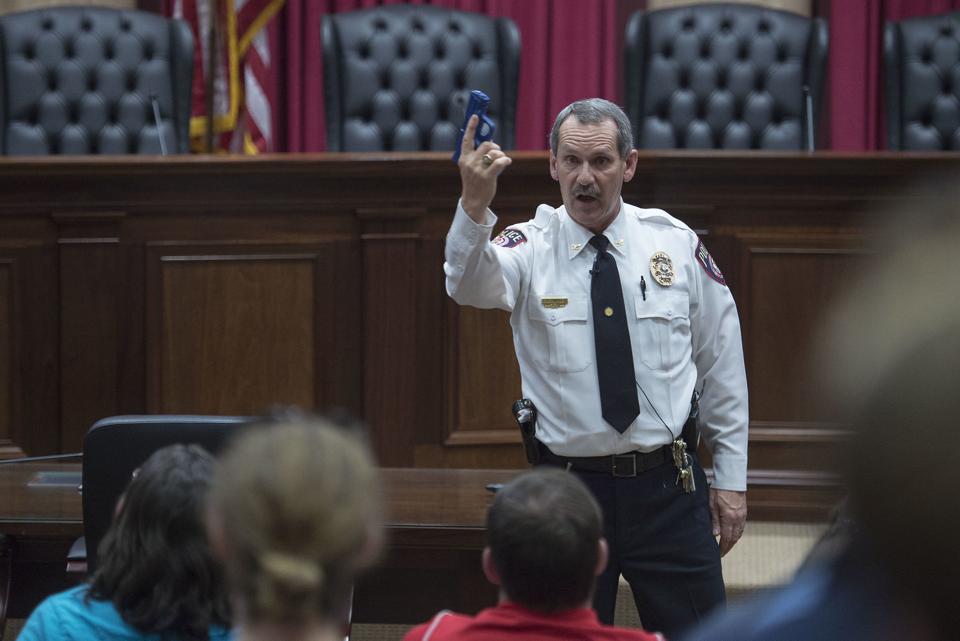 Wielding a simulation pistol, Liberty University Police Chief Richard Hinkley lectures students attending the University's concealed carry class, at the University's Law School Supreme Court Room on Thursday, Dec. 10, 2015 in Lynchburg, Va.
More than 200 people attend LU's
concealed gun course
Falwell: Liberty University to allow
guns in dorms