THE CHURCH MILITANT Ephesians 5:11-"And have no fellowship with the unfruitful works of darkness, but rather expose them". This Christian News Blog maintains a one stop resource of current news and reports of its own related to church, moral, spiritual, and related political issues, plus articles, and postings from other online discernment ministries, and media which share the aims to obey the biblical commands to shed light on and refute error, heresy, apostasy, cults, and spiritual abuse.
Thursday, July 17, 2014
Posted by

John
at 2:30 PM
Links to this post

set to be transformed into a facility
to house illegal immigrants
as a result of a $50 million dollar contract awarded by the Obama administration
for over $1000 dollars a day.
The beautiful
Palm Aire resort and hotel
has an indoor Olympic sized pool and an outdoor pool.
Free Wi-Fi and cable TV
are included in the simply decorated guest rooms.
Obama Wants $50 Million Resort For Illegals:
FREE LUXURY RESORT FOR ILLEGALS
HAS $1000+ ROOMS FOR RENT
Obama administration funds hotel for undocumented immigrants
ROOM RATE:
SEE:
SEE UPDATE:
Baptist Child and Family Services
Withdraws Bid for Palm Aire Resort
Church Group Backtracks on Luxury Hotel for Illegal Immigrants:
$62,111,126 To Baptist Child & Family Services
Obama Bankrolled For Illegal Invasion!
PROPOSED IMMIGRANT RESORT CANCELS
JOURNALISTS' RESERVATIONS
Hotel manager: "I'm gonna go ahead and refuse services..":
by
INFOWARS.COM
|
JULY 17, 2014
republished below in full unedited for informational, educational, and research purposes:
Hours after booking rooms at the south Texas hotel once slated to undergo a $50 million transformation into an illegal immigrant care facility, a hotel manager informed us that our reservations would be canceled in efforts to combat "more negative stuff in the media."
On the way to the Rio Grande Valley from Austin, a manager at the Palm Aire Hotel and Suites in Weslaco called saying she had googled "Infowars.com" and discovered we were journalists, and that due to intense media scrutiny she would be canceling our reservations.
"I'm gonna go ahead and cancel your reservation. I don't want to have any more negative stuff in the media," a hotel manager told us over the phone.
"I googled that Infowars website and I saw your name posted to a blog on it. So I'm just.. I'm tired of the media, I just don't want anything to do with it. So I'm gonna go ahead and refuse services," the manager said when pressed for further details.
Infowars crew members had planned to stay at the hotel to document the standard of accommodation the Obama administration would have provided illegal alien minors aged 12 through 17.
The hotel was recently at the center of controversy after its owners were approached with an offer by the non-profit organization BCFS Health and Human Services, a contractor for various Department of Homeland Security agencies, state governments and CIA front groups, such as USAID.
The hotel, already equipped with an Olympic size swimming pool, free cable and wi-fi, tennis courts, jacuzzis, sauna, steam room, two racquetball courts, and a large fitness center, would have been morphed into a 600 bed facility for juvenile illegal immigrants by October 1st.
"This proposal sought to find a solution for providing safe, humane care for the children flooding across the border and overwhelming U.S. Border Patrol and communities,"
BCFS said in a statement.
"BCFS is thankful to the City of Weslaco for their consideration and is disappointed that misinformation fueled so much negativity against this effort that its success is likely jeopardized."
It's disheartening that, on the verge of housing people who committed an illegal offense, the site has now denied access to members of the press clearly working in the public's best interest to document where and how taxpayer monies are being spent.
Moreover, the hotel's desire to squelch negative press, at this point, is neurotic given the fact that they themselves created the story by nearly aiding the implosion of the nation's borders in favor of a North American Union.
Welcome To The Hotel Camp FEMA
Operated by BCFS In Harlingen, Texas;
Access Denied by Local Police:
Published on Jul 18, 2014
SGT. Joe Biggs, Jon Bowne, Kit Daniels, and Adan Salazar have booked a reservation at Hotel Camp FEMA. As the investigation ensued, their reservations canceled, news of the plans of the Federal Government short changing The Hotel Camp FEMA to divert a monstrous backlash of whats left of Freedom Of The Press In America. the BCFS non-profit organization in Harlingen, Texas where Illegals would have been housed, was canceled even before our reservations were.

Realization setting in, we found ourselves in a web of homeland security vehicles and buildings of every size and shape. A gluttonous display of epic proportions is being built by the Federal Government in The Rio Grande Valley of Tejas.

There is a massive Federal presence in this once serene Valley in Southern Texas. The Rio Grande Valley is a wonderful piece of Texas history. But it is being invaded not just by an avalanche (4 times higher since 2011) of illegal aliens. Tracking in votes for our out of control money hoarding ringleaders,for lack of a better term.Not to mention disease,gang violence,theft,assault,impending economic collapse. This isn't about race, it could be your own race that gives your family Tuberculosis. It could be mine.

Every race, creed, and religion is walking across our borders with "who knows what?" while we all get groped at the airport.
Posted by

John
at 9:13 AM
Links to this post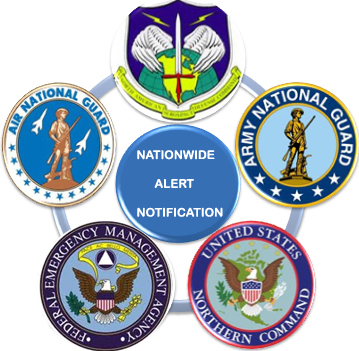 Extended Interview With FEMA's Administrator Fugate
NATIONAL GUARD & COAST GUARD ARE EXEMPT
FROM THE POSSE COMITATUS ACT,
SO FEMA SEEKS TO "WORK WITH" THEM
WILL FEMA OVERRIDE THE AUTHORITY
OF STATE GOVERNORS?
FEMA ADMINISTRATOR CRAIG FUGATE WITH
DEPARTMENT OF HOMELAND SECURITY SECRETARY
JANET NAPOLITANO
Administrator Craig Fugate (right) goes over a map of Ludlow with Vermont Governor Peter Shumlin (center) and General Dick Harris, Brigadier General, Vermont National Guard in Ludlow, VT. They surveyed damages in the town following the inland flooding caused by Irene, August 30, 2011. (Photo from FEMA)